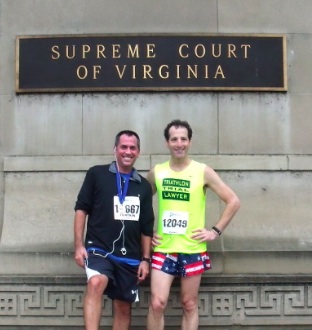 While in Richmond for the Advanced Workers Comp Retreat, "TriathlonTrialLAwyer" Landau finds time to race before the Weekend program resumes !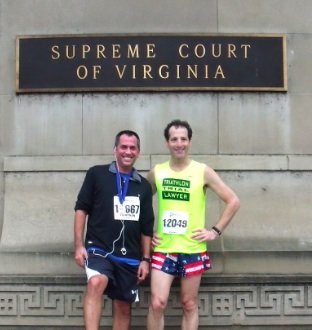 In his first running event since major medical testing, Doug Landau participated in one of the races held during the Richmond Marathon festival. The Herndon Reston injury and disability lawyer was scheduled to attend the Advanced Workers Comp Retreat at 8:30 a.m. The nTelos 8km (about 5 mile) road race started at 7:00 a.m. in downtown Richmond. Landau had previously run this same course in 29:38. However, the course took 36 minutes this time, putting Landau back in 177th place out of 5,111 participants.
The Triathlon Trial Lawyer was glad to have been at the starting line, and he even managed to visit with Richmond friends, like Dr. H. Andrew Fratkin, shown here after the race in front of the Virginia Supreme Court. Landau wants to thank Dr. Fratkin and his talented family for their hospitality and for getting him to the starting line on time ! Landau also visited the Virginia Workers Compensation Commission's headquarters, attended two different musicals in which family members were involved, a spin class at ACAC (formerly the Briarwood Health and Wellness Center, where Abrams Landau clients have received their physical therapy), and an informal meeting with the newest member of the Full Commission.