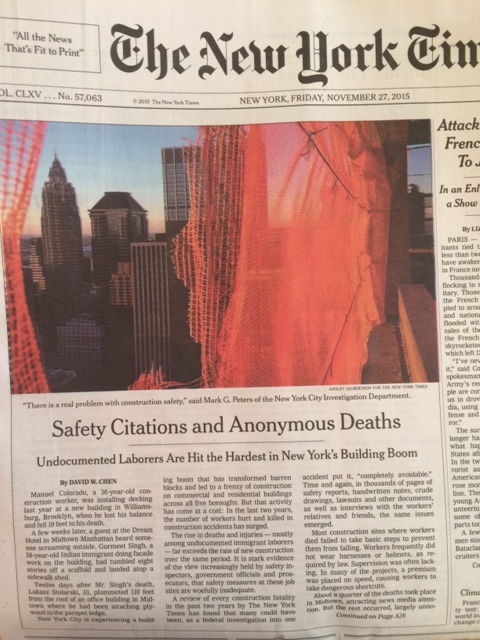 When the Victims of Workplace Injury and Death are Afraid to Come Forward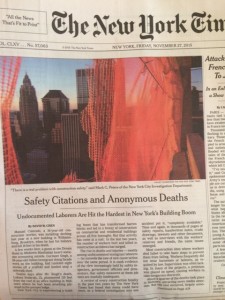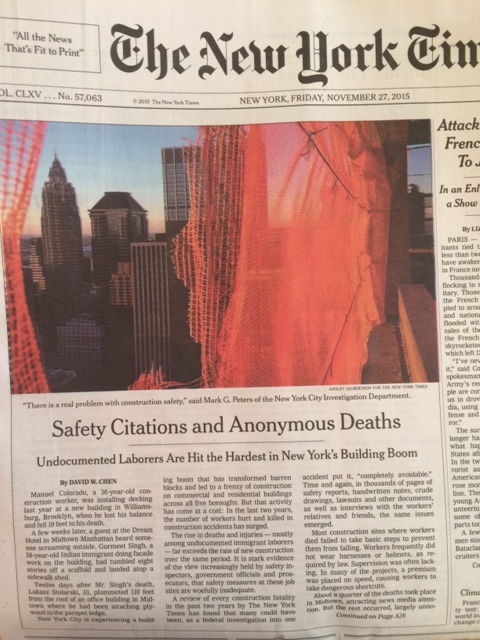 Doug Landau has represented (and is currently helping) workers and their families who have been permanently disabled or killed due to lapses in work site safety.
New York City and other major cities are experiencing building booms, and evidence of new construction is seemingly all around.
However, in the Big Apple, that activity has come at a terrible cost. In the last two years, the number of workers hurt and killed in New York in construction accidents has surged.
According to a recent article in the New York Times (NYT), this "rise in deaths and injuries — mostly among undocumented immigrant laborers — far exceeds the rate of new construction over the same period. It is stark evidence of the view increasingly held by safety inspectors, government officials and prosecutors, that safety measures at these job sites are woefully inadequate."
Lawyer Landau has represented the families of two workers who died during the construction of the I-95/ I-395 "mixing bowl" project, as well as others who gave their lives because of inadequate safety protocols or understanding of the hazards of the workplace.
In the case of the New York fatalities, the construction sites where workers died failed to take basic steps to prevent them from falling.
According to the NYT, "Workers frequently did not wear harnesses or helmets, as required by law. Supervision was often lacking. In many of the projects, a premium was placed on speed, causing workers to take dangerous shortcuts."
Landau has seen where roofers have fallen off roofs in Virginia because of the pressure to speed up the work or bring in the next loan on that project from the bank, or simply due to the general contractor's greed.
Furthermore, while the upside to speeding up construction for the owners and general contractors is evident, the downside is asymmetrical.
The fines issued by the Occupational Safety & Health Administration (OSHA) and the amounts payable under the state workers' compensation laws are capped and very small when compared to the loss.
In Viriginia, the families of the dead construction workers and truck drivers Landau has represented can only get up to 500 weeks of compensation, at 2/3rds of their loved one's wage rate, plus limited burial, funeral, and transportation costs.
That's it. Nothing for their solace, long-term loss of family income, or absence of a father, husband, son or brother.
Workplace safety must become a priority if we are to see a reduction in needless death and dismemberment.
In future posts, lawyer Landau will address some potential solutions to this epidemic of unnecessary workplace fatalities.