Triathlon Trial Lawyer Doug Landau a winner at Spotsylvania YMCA Triathlon; collecting hugs after races and cases !
What's the best part of my job ?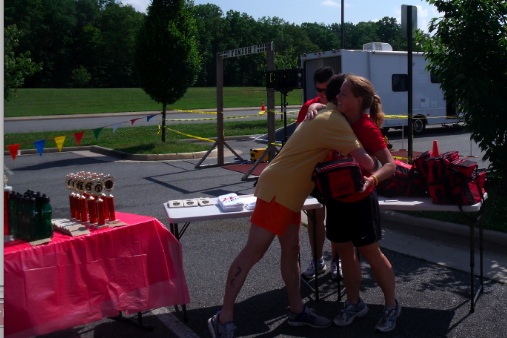 Collecting hugs, giving good news to my clients and their families, and winning their cases. I also enjoy teaching and helping other lawyers to become better advocates on behalf of innocent, injured victims. This weekend I had the opportunity to combine my passions. My day started early; up at 5 AM to race in the Spotsylvania
YMCA Sprint Triathlon at 7 AM. Winning the Masters division, my age group and finishing third overall again this year, I do not like the fact that the combined ages of the pair ahead of me was once again, still less than my own ! Nevertheless, I was awarded some useful prizes and a wonderful hug. My friend Edward Allen even came to see how I fared this year against "all those youngsters." After the race, I was able to visit (and exchange hugs !) with friends, current and former car crash, airport injury, premises liability, and negligence case clients in Fredericksburg, Spotsylvania and Fawn Lake. It was just another day in the life of the traveling Triathlon Trial Lawyer.