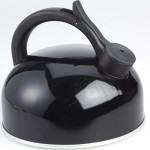 Tea Kettle Recall
by the company due to risk of burn from steam and even the potential for the tea pot to melt onto a burner.
Consumers who purchased the kettle should either return it to any Target store for a full refund, or contact Wilton directly.  Either way, you should stop using the product immediately!  For more information, visit the Consumer Product Safety Commission (CPSC) website.
If you or someone you know has been injured due to a defective product and there are questions as to what laws apply, email or call Abrams Landau, Ltd. at once (703-796-9555).