President's Ill Advised Executive Order Eliminates Requirements to Be a Federal Social Security Judge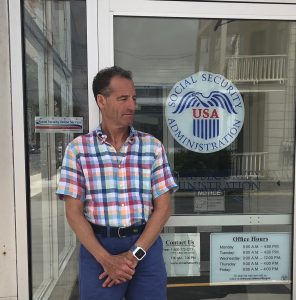 Judges should be selected from the best, brightest and experienced lawyers. Having someone sitting in judgment in a Federal court who has never actually tried the kinds of cases he or she is deciding is a recipe for disaster.
However, President Trump's executive order upends the system put in place to ensure that Federal Administrative Law Judges ("ALJs") are the best people for deciding cases important to American families. Social Security Disability lawyer Doug Landau has helped train Virginia Circuit Court judges and has seen how challenging the job of a jurist can be. But now, in order to be a federal judge, an applicant may only need to be in the right political party.
Previously, an applicant for an Administrative Law Judge position needed to:
• Have a valid law license,
• Pass a written exam,
• Have more than 7 years' experience,
• Pass an oral examination
• Pass muster before a panel of Office of Personnel Management ("OPM") and American Bar Association ("ABA") staffers.
Now, the only credentials needed are that the candidate "possess a professional license to practice law and be authorized to practice law." As pointed out in a July 23, 2018 Washington Post editorial, this opens "the door to candidates with no litigation experience whatsoever."  Furthermore, the executive order dismantled regulations that limited the removal of these judges.
What does this mean? This means that your Social Security case may end up in front of a judge who has no experience trying such claims, who could not pass a written or oral exam, and who would not pass muster before an OPM or ABA panel. Of the 1,900 ALJs across the federal government, some 1,600 are in the Social Security Administration. These Social Security ALJs oversee the trials that determine lifetime benefits for American citizens, life-saving medical benefits and assistance for disabled workers' children. If you are successful in your ALJ Hearing, you have the opportunity to draw upon money taken out of your paycheck earlier than retirement age if you need it for dire illness, catastrophic injury or incurable cancer.
To put inexperienced, newly minted lawyers on the bench to rule on these cases, based only upon their political affiliation, has the effect of making it easy to politicize the Federal judiciary.  The process for selection of the judges of our national courts should not be politicized. In the past, if a judicial applicant could not pass the oral or written examinations, or did not have the required level of experience, then regardless of their political affiliation, they could not be a judge. Now that has changed. For the worse. The American people deserve impartial, experienced and competent judges. The current White House has put in place an Executive order that has put our judicial system in jeopardy. The effects of this political move will be felt for decades to come, unless Congress takes steps to set minimum standards for these important judicial positions and to preserve the independence of the bench.