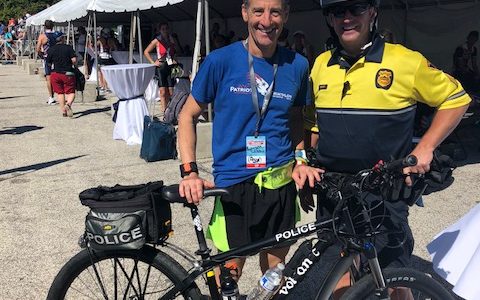 Police Promote Bike Helmet Safety
While cheering on training partners at the US Triathlon National Championships in Cleveland, Ohio, bike injury lawyer Doug Landau compared notes with local law enforcement regarding helmet and bicycle safety. Attorney Landau learned that there are programs in Ohio to educate children about the importance of using head protection when riding their bicycles, similar to the Abrams Landau's Lids on Kids program.
As evident from the photo, Ohio bicycle police wear their helmets whenever they are on their bikes. This officer told Landau that several officers had been in crashes, sustaining concussions that would have been a lot worse had they not been wearing their police issued helmets.
It is vitally important that children of all ages understand the importance of wearing helmets. One athlete asked if there was a law requiring a bike shop to sell a helmet to a child when they purchased a new bike. That is a great question that merits further inquiry.
If you know of a state or municipality that requires helmets to be sold with new bicycles to children, then please let us know. Triathletes are not allowed to even bring their bicycles into the transition areas at National Championships without their helmets. Furthermore, they cannot be seen riding their bikes outside the transition during warm-up without a helmet, as it's grounds for disqualification.
Athlete safety should be priority number one at national events where top athletes are striving for spots on World Championship teams to represent the United States of America. Top athletes should also realize that they are role models and should therefore always wear their helmets when on a bike, even when they're not racing or training.
Children very much look up to adults to see what it is that they do. When parents do not wear helmets, the child may figure, "Why Should I?" So, always wear your helmet. If your helmet is broken, falling apart or was in an accident, don't wear it. Make sure that it fits, is properly positioned on the head, and that it is clicked securely so that it can protect the riders head in the event of a crash.
If you or someone you know has been injured due to no fault of your own while bicycling or any other accident, please give us a call (703-796-9555) or email us at Abrams Landau, Ltd.