Black Letter Law: How to Prepare for Your Case
One of the first things the Abrams Landau law team looks at when developing case strategy is to look at the "black letter law" applicable to the particular case. The Herndon, Virginia injury firm looks to see what evidence and testimony will be necessary to prove negligence in the car crash, unsafe product, trip and fall or dog attack case.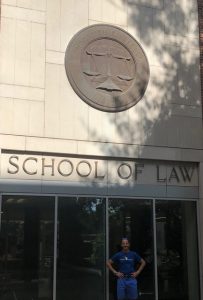 In law school, students are taught the black letter law. This is the rule for a particular situation. However, while law students are taught this black letter law, they are then tested on the facts of a particular case! Students are graded on how well they spot issues and apply the law to the facts. Law professors often use checklists to make sure that their students have spotted all of the issues and correctly applied the facts.
And once they graduate law school, many lawyers often forget that they need to know where they are going when they start a case. Too often experienced lawyers wait until the very last minute to look at the black letter law in their cases. Attorney Doug Landau has seen senior counsel look at the black letter law, embodied in the jury instructions the judges read at the end of the trial, the week before or the night before trial! That is a huge mistake.
The best lawyers look at the law applicable to their clients situations right away. In fact, Landau will often give clients copies of the critical jury instructions in their case, so they can see, right away, what needs to be proven at trial if they are ultimately to succeed. Very often, sharing these jury instructions (the black letter of the case) with the client or witnesses will enable them to focus on what specific facts and evidence needs to be brought to the jury's attention.
Sharing the black letter law with clients also enables lawyer Landau to see what things are not covered by a particular state's or jurisdiction's laws. For example, in the jury instruction for damages used by Virginia trial judges, there is no provision for "Loss of Consortium." Out-of-state clients are surprised to see that Virginia does not allow damages for loss of consortium.
If you have any questions as to what jury instructions would be applicable to your injury case, please contact us at Abrams Landau, Ltd. You can call (703-796-9555) or email us.