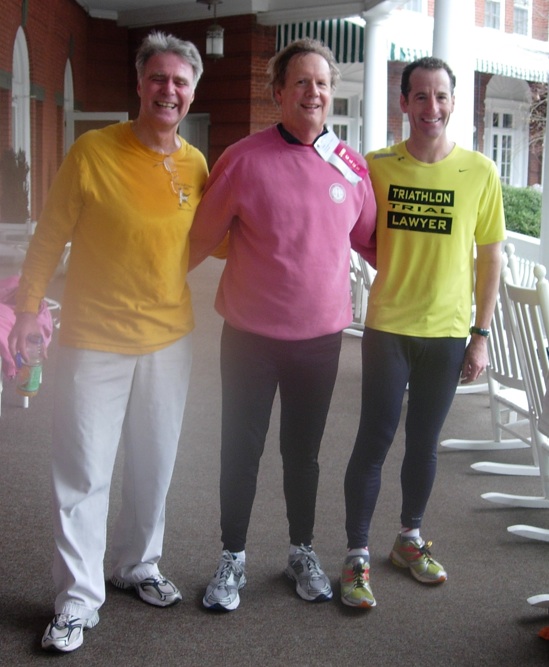 Landau reclaims Virginia Trial Lawyers running race win
The Virginia Trial Lawyers Association (VTLA) 49th Annual Convention was not all lectures, Continuing Legal Education ("CLE") programs and Committee meetings. There were also several sporting competitions over this past weekend. The first event is the early morning Run and then in the afternoon, after the CLE program, attorneys from all over the Commonwealth can compete in: Skeet Shooting, vie for the "Norman Landau Cup" Golf Tournament, or play in the tennis tournament sponsored by ABRAMS, LANDAU Ltd.                 .                          .
.
Doug Landau was a volunteer at last year's race, which has traditionally been sponsored by the Garver Law Office in Reston. TriathlonTrialLawyer Landau of Herndon sometimes trains with running race sponsor Steve Garver and has been the director of the tennis tournament for over a decade. In prior years, the "TriathlonTrialLawyer" was runner up to 4:17 miler Davis Barry, who is senior in high school this year, and the son of the Allen firm's managing partner Doug Barry or Fredericksburg. However, with the younger Barry out injured, TheAthletesLawyer was able to hold off 2 challengers, whose combined age was still less than half of Landau's ! While the lead changed several times in the opening miles, and Landau took several wrong turns on the hilly, cross country course, he managed to come in first place and then run back to escort his wife and daughter to the finish line ! He is shown here with Tom Curcio of Old Town, Alexandria and Chris Meyer, of the Allen firm's Richmond office. Over the years, Landau has run with these lawyers, and worked on cases with them as well.