Is Workers' Compensation Coverage Still a "Grand Bargain"?
When first enacted, Workers' Compensation for injured workers was supposed to be "the Grand Bargain." In exchange for giving up the right to sue their employer and coworkers for Common Law negligence, unsafe, and even unlawful conduct, workers were supposed to be able to have the protection of a quick, administrative medical bill payment and partial wage replacement system, known as Workers' Compensation,
There would be no large verdicts against sloppy or unsafe employers, but there would be compensation so that the injured employee could get well enough to return to their job. Furthermore, there would be a "safety net" for the disabled worker and the grieving family left behind after a fatal industrial accident. That was the intent of the plan.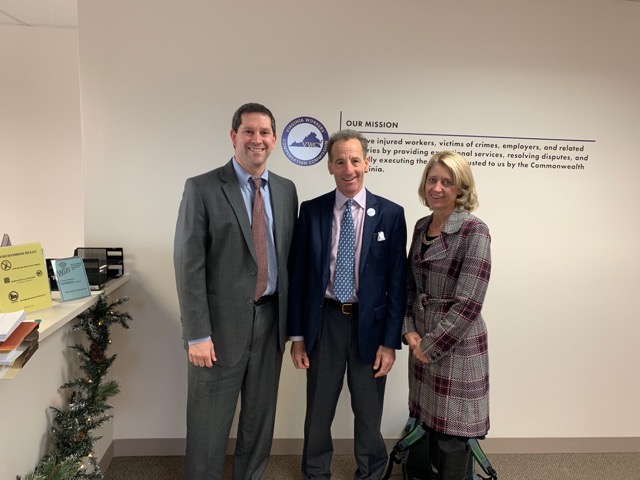 The Workers' Comp system was supposed to provide significant benefits in order to be fair under the law. A study in the 1970s noted that the state Workers' Comp systems should provide for an adequate, prompt and equitable remedy. Many Abrams Landau law clients will tell you that the Virginia and D.C. Workers' Comp Acts are falling far short of those goals.
Right before the COVID-19 pandemic last year, Herndon, Virginia workers' compensation lawyer Doug Landau ran into experienced Tidewater defense attorney Adam Rafal (with whom he has taught for the VWC at its annual Legal Education Program in Richmond), and Falls Church claimant's counsel Julie Heiden at the Virginia Workers' Compensation Commission's Northern Virginia Regional Office in Manassas, VA.
Lawyer Landau was at the Prince William County Hearing site for a Mediation session for a brain-injured car mechanic whose case has been ongoing for over a decade. While the injured worker receives medical benefits and medications, they are often delayed, denied or the subject of a Court Hearing. The judge agreed with Landau's math on the cost of the disabled worker's future medical care and medication load, which was over a $1,250,000. However, as the Workers' Comp insurance company only offered half that amount, the case did not settle, and the case is being put on the active Hearing docket for these medical issues.
In the century that has followed, the Workers' Compensation system has grown more complex, more litigious, and more protracted, while benefits have not kept apace with the real costs of workplace injuries and death. According to the Occupational Safety & Health Administration (OSHAA), only 21% of the cost of on-the-job injuries are being covered by Workers' Comp. ProPublica and NPR did an expose on this in March 2015, and things have not gotten better since then.
Some 12 billion dollars a year are being added to the cost of the Federal Social Security Disability Income program (SSDI) because of cuts to Workers' Comp. This is what is known as "cost shifting." The Workers' Comp system costs some 88 billion dollars a year for: Insurance Companies, Third Party Administrator (TPA), Insurer's Vocational Rehabilitation Vendors, Doctors, etc. While the costs of claims and the frequency of claims are both down, the prices of Workers' Comp premiums are still going up! The Workers' Compensation line of insurance is the second most profitable line of insurance (after automobile coverage), with an annual rate of return on investment income of 14%. With this kind of profitability, it is no wonder that payments are delayed, medical care denied, and a "waiting game" that only profits the insurance industry is played throughout the Commonwealth of Virginia and the District of Columbia.
If you or someone you care for has been severely injured due to no fault of your own, please give us a call (703-796-9555) or email us at Abrams Landau, Ltd.