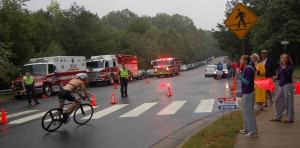 Injured cyclist contacts Landau Law Shop after Reston bike crash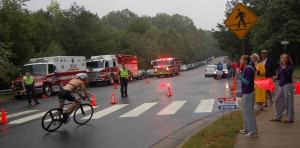 The victim of the bike crash Sunday at Ridge Heights Road near the Langston Hughes Middle School and South Lakes High School contacted sports injury lawyer Doug Landau this week.  The Loudoun County athlete sustained multiple injuries in the incident and was taken to INOVA Fairfax Hospital by ambulance after being attended to at the accident scene by Good Samaritan and award-winning triathlete Dr. Allen Delaney of Commonwealth Orthopedic Group.
Apparently a car came from a side street during the 26th annual Reston Triathlon and blocked the path of the cyclists heading up toward the High School transition area according to reports in the Fairfax Advocates for Better Bicycling FABB blog. The injured cyclist was grateful for those who came to his aid and for the speed with which the police and rescuers were on the scene.  Excellent training by Fairfax County first responders and police enabled the injured athlete to be taken to the emergency room quickly.
If you know anyone who may have seen any part of this car accident, please e-mail or call us at ABRAMS LANDAU (703-796-9555) at once. We are investigating this bike and car crash, as the cyclist suffered severe injuries, loss of consciousness and closed head injury.