Giving Blood: Good for others AND good for you!
Volunteer Middle School Civics & Constitutional Law instructor Doug Landau has long advocated for Americans to do their civic duty. This includes such important activities as: voting, serving on a jury, participating in government, volunteering, donating blood and service in the armed forces.  Lawyer Landau routinely donates blood through the INOVA blood donation services program, both at blood drives in bloodmobiles and at permanent donor centers. He usually tries to do so every 10 weeks, except between the USAT Triathlon National Championships and the ITU Triathlon World Championships, as it can impact VO2 max and the coaches in Colorado Springs, Colorado would not be happy with any avoidable diminution in athletic performance.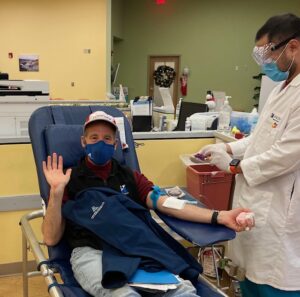 Researchers have found that citizens who donate blood get a number of benefits, in addition to the snacks, drinks & shwag that the INOVA program gives them. Donating blood lowers cholesterol. It also reduces the blood's viscosity (thickness) which lowers the risk of a heart attack or heart disease. It may also slightly reduce the risk for certain kinds of cancer (esophageal, lung, colon, stomach & liver).  Plus, helping others has been found to reduce stress, improve emotional well-being, and lead to a sense of belonging, all of which also improves your physical health. And as humans, we are social beings. So being a part of a group and helping one another, has helped us survive and evolve.
If you are interested in donating, book an appointment. You can call 866-256-6372 or go online at: https://www.inovablood.org/
Herndon Virginia injury lawyer Doug Landau usually donates at the INOVA Dulles Town Center location, 45745 Nokes Blvd #160, in Sterling, Virginia 20166. He likes the variety of juices, cupcakes, ding dongs, twinkies & other treats that they give him after he donates while he rests until he is cleared to leave., He also appreciates the warm winter caps, hockey bobblehead dolls & other "thank you" gifts. Just as with his "Lids on Kids" brain injury prevention and bicycle safety program, lawyer Landau believes that we should roll up our sleeves and help as part of our civic duty. Some of Landau's clients have needed multiple blood transfusions, so Doug feels as though he is "replenishing" the blood bank so that others maybe saved. Because of the importance of civic duty that Landau's parents instilled in him and his siblings, Landau has also served as a: poll watcher, vote counter and campaign volunteer, as well as school science fair judge, reading tutor, cafeteria server, field trip chaperone, bus driver and Moot Court judge. Giving your blood, sweat and time is important, and everyone can do something. Plus, when you do, YOU feel better too! Think about what you can do and then do it. You'll be glad you did.