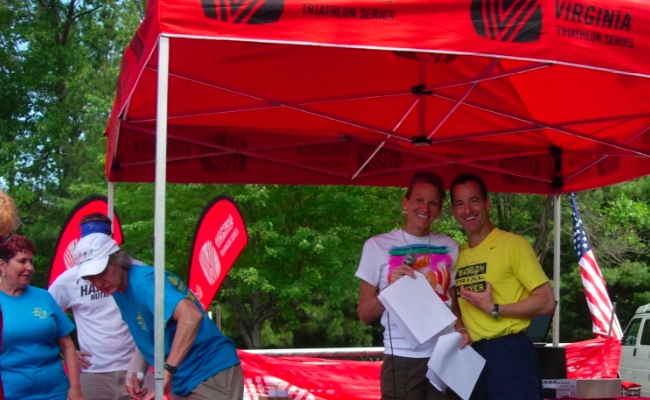 Despite "technical difficulties on the bike," Doug Landau repeats as Age Group Winner at Reston Sprint Triathlon
It's never a good idea to stop during a sprint triathlon, that is, if you want a top finish !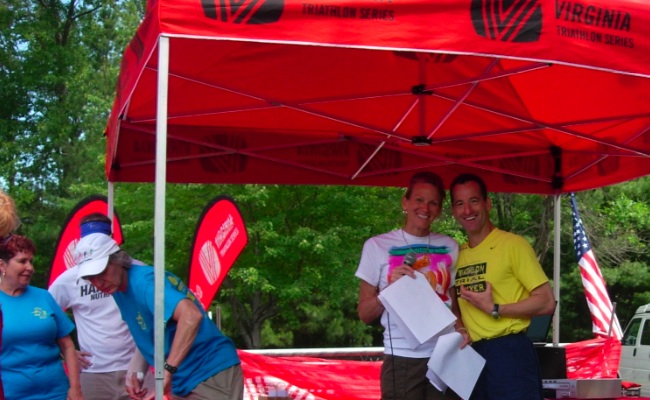 Today I stopped not once, but three times !  I stopped in the cold, pool swim, in order to get my "electronics" (watch, "time window" goggle chronograph and heart rate monitor) working.  And then I had to stop on the bike ride twice.  My rear wheel was rubbing against the frame.  I could hear, feel and smell the burning rubber.  It was not safe.  And it's better to be safe than sorry.  Especially when you represent injured athletes and bicyclists who have been in crashes.  Had I kept going, my wheel could have worn out or overheated and burst, causing me to crash, suffer a head impact or worse, a brain injury.  Averaging some 24 miles per hour, I try to not take unnecessary chances. There was a screw loose (many of you are cheeky enough to think, "no surprise there !"), and I was able to take the wheel off, and re-align it so that it would stay "true" for the remainder of the 12 mile bike course.  The Triathlon Trial Lawyer managed to finish in under 65 minutes, or about a minute slower than last year, for 14th overall, out of 550 registrants.  Had I not stopped 3 times, I believe that I would have been in the top 10 again, and had a course PR (= personal record).