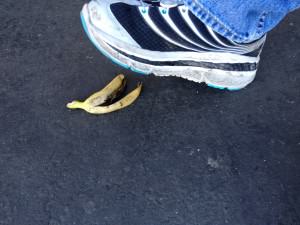 Brown Leaf or Green Leaf ? Grocery Slip and Fall Cases
was not at all their fault, but also that the grocery store had NOTICE of the defect.  Adds Landau, "In other words, if the leaf just fell to the ground, and it was still green and crispy, then it was likely not there long enough for the store personnel to have known about the danger.
On the other hand, if the lettuce leaf was there for a long time, brown, crushed, with skid marks coming out of it, smelly and smushed, then evidence tends to suggest that it had been on the floor for a long enough time for the store staff to have taken action to prevent needless harm. "  So, to prove "notice," it is important to get evidence as to how long the dangerous condition was present, and whether the property owner or store personnel had a reasonable amount of time.
If the injured victim's lawyer can produce evidence of "Notice", which is usually one of the more difficult aspects of a premises liability case, then the claim is more likely to settle or go to a jury.  If there is no evidence of "notice," then the insurance company for the store owner is unlikely to settle and the case may be dismissed by a Virginia trial judge before it is ever submitted to the jury. If you or someone you know or care for has been injured as the result of a slip and fall at a grocery, big box or other store or shopping mall, and there are questions about what laws apply, e-mail or call us at ABRAMS LANDAU, Ltd. (703-796-9555).