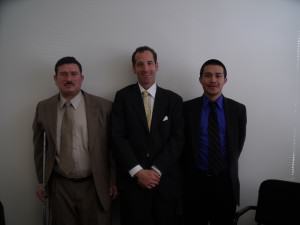 ABRAMS LANDAU clients come and watch Doug Landau win Award for Fairfax Nurse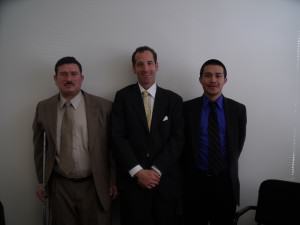 Several ABRAMS LANDAU, Ltd. clients did their "homework" and came to watch Doug Landau try a case in Fairfax on behalf of an injured Fairfax nurse.  This wonderful woman had devoted almost her entire work life to helping others in the hospital nursing field.  She was a nurse with the INOVA system for over 3 decades !  Yet, when she injured herself several years ago and tried to pursue a claim on her own, the hospital denied her workers comp benefits, hired lawyers to defeat her claim and she lost in front of one of the judges in Fairfax.  She then returned to work, taking care of pregnant mothers and newborn babies in one of the busiest hospitals in the state of Virginia.  She was tripped up in a fetal monitor's wires and thrown down to the ground.  She was injured and faced long term disability and physical therapy.  The hospital again denied her claim and hired a law firm to win the case in court.
This time the nurse called ABRAMS LANDAU, albeit "at the 24th hour" – right before her deposition and less than 2 weeks before her Hearing before the judge !  Bristow, Bradley Farms and Lake Anna injury lawyer Doug Landau was able to help the nurse prepare for her "day in court" and get this mistreated woman under the protection of an Award.  The clients who came and watched learned where to sit, park and what occurs in contested workplace injury cases.  These injured workers also got so see lawyer Landau "in action," which is enormously important in eliminating a lot anxiety and "unknowns."  As the only law firm that routinely invites clients, their families, friends, neighbors and witnesses to come and watch "real" cases (as opposed to those  on television), please e-mail or call ABRAMS LANDAU, Ltd. (703-796-9555) to see when next we are trying cases in your area.   Learn by watching "the real thing."  You and your family will be glad you did.