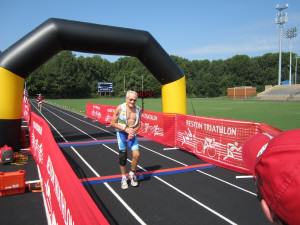 A Day for Overcoming Pain, Heroism and Remembering at the Reston Triathlon
in preparation for an Ironman event.
Herndon injury lawyer Doug Landau fielded questions about lake Audubon water safety during packet pick up and helmet safety inspection.  According to the Triathlon Trial Lawyer, the majority of triathletes understood the Reston Race Director's decision to cancel the swim.  While the course was changed to a run-bike-run duathlon, relatively dry and very well marked, athletes still had to corner safely because of organic debris and wash out caused by the week's record-setting rains.  One casualty was Johan Duba, who told Landau that he broke his collar bone.  An elite xTerra, off-road athlete, Landau expects to see his friend recover quickly and compete successfully again next season.   Another multi-sport athlete who has come back from car crash injuries is Henry Tragle, who won this year's Reston Sprint Triathlon and was strong throughout today's race, battling to the runner's up spot.  Also showing strength despite the pain endured in getting to the finish line were racers coming in 4 hours after the start !  Congratulations to all of those who completed today's Reston Virginia Triathlon, who have overcome injuries and those of every age, shape and size who "toe the line" to test themselves.