10,000 Disabled Claimants Died Last Year While Waiting for Their Day in Court
Waiting may seem like a simple and annoying, aspect of our lives, but for 1.1 million disability claimants in the U.S., it's an excruciating, life-numbing process and often a matter of life or death.
On November 21, 2017, the front page of The Washington Post featured a striking piece on the current state of the Social Security administration titled "597 days. And still waiting." There are currently 1.1 million disability claimants waiting for one of around 1,600 Social Security administrative law judges to determine whether or not they deserve a monthly payment and Medicare or Medicaid. In 2012, the national average wait time was 353 days and this past summer it was a record high of 596.
The Truth
Like many Social Security Disability attorneys, lawyer Doug Landau of Abrams Landau, Ltd. is upfront with potential or new clients that the wait to even just hear a judge's verdict could be a minimum of two years for Social Security Disability Insurance (SSDI). To make it even more difficult for people who are disabled, they cannot work while they wait if they want to improve their chances of getting approved and receiving benefits. The attorneys need to present the judges with adequate and accurate proof that the individual is truly disabled and cannot work, which is proven through numerous medical records, testimonies and a vocational expert during the hearing. Unfortunately,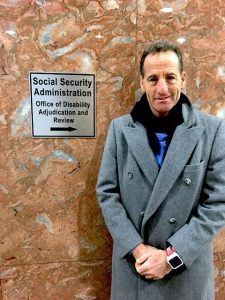 the "disability approval rate among judges nationwide dropped from 73 percent in 2008 to 55 percent last year." 
It doesn't end there. After waiting for almost two years for a hearing—for a judge to finally hear your case—there is another long wait, sometimes a six month wait, to hear the verdict. After lawyer Landau tried a hearing for an SSDI case of ours in Charlottesville, Virginia earlier this year, we had to wait seven months after the hearing to get an opinion, or verdict for our client. The backlog of people awaiting a disposition after the hearing has "doubled in the last year from 35,000 claimants to 70,000."
A "Death Sentence"
Denials and more waiting are often the equivalent of a "death sentence" for these claimants. "10,000 people died in the past year while stuck in a backlog of judges' disability cases" and according to preliminary federal data obtained by The Washington Post, "in the past two years, 18,701 people have died while waiting for a judge's decision, increasing 15 percent from 8,699 deaths in fiscal 2016 to 10,002 deaths in fiscal 2017." Our condolences to all the people who didn't make it past the waiting period and to one of our SSDI clients, an Iraq war veteran, who died this week while waiting for his day in court.
Why the wait?
There are many reasons, but the simplest is that there isn't enough money. The Social Security Administration's budget "has been roughly stagnant since 2010, while the number of people receiving retirement and disability benefits has risen by more than 7 million." According to the recent Washington Post article, the complicated explanation includes "fewer supporting staff members helping judges," "a recession that increased the number of applications and appeals," and "a new regulation that requires additional medical evidence, lengthening the files judges have to read."
If you or someone you know or care for is disabled and needs help with Social Security Disability and there are questions about what laws apply, e-mail or call us at ABRAMS LANDAU, Ltd. (703-796-9555) at once.