Tough Luck if Struck by Luggage Tug, Tractor, Fuel Truck or Other Co-Worker on the AOA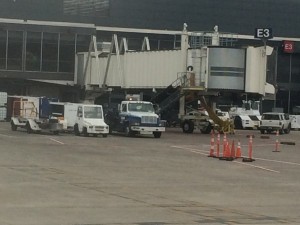 The Airport Operations Area ("AOA") at major airports is usually bustling with jets, prop planes, trucks, tugs and electric vehicles.  When collisions between airport vehicles and workers on foot occur on the AOA, a workers compensation claim usually arises if there is an injury and disability from work.  However, the state comp claim does NOT provide for: all of the employee's wage loss; physical pain; future raises and bonuses; lifetime earnings; loss of consortium; or emotional distress.  In some airport vehicle accident cases, the injured worker can bring not only a comp claim, but also a lawsuit for all of the harms caused by the Defendant driver's negligence.
However, there is a huge exception, according to airport truck, tug and car crash lawyer Doug Landau.  If the driver of the vehicle that causes the injury to the airline ground worker or airport maintenance vehicle operator works for the same company as the disabled employee, then the claim is prevented by what is known as "the workers compensation bar." In other words, in cases involving injuries caused by co-workers, the "exclusivity provision of the workers compensation law" applies, preventing lawsuits under Common Law against an employer who has paid for workers compensation coverage.  This means that in cases involving crashes between co-workers, the innocent victim is restricted to her limited workers compensation benefits.
As an example, if "Employee A" works for ABC Airlines and "Employee B" works for XYZ Airlines, and A smashes his luggage tug into B's food service truck, causing permanent injuries, B could collect her comp benefits AND bring a lawsuit against A and ABC Airlines.  However, if B worked for ABC, then she would be limited to workers comp only, no matter how unsafe A's driving may have been. Not all cases are so clear cut. Sometimes an unsafe driver who causes an injury on the AOA will claim that they work for the same company as the victim, in order to avoid legal responsibility for all of the losses they have caused.  Investigation be experienced airport injury counsel may reveal that in fact the Defendant and their victim work for different entities, because of the use of subsidiary airlines and alliance carriers. If you or someone you care for has been injured at an airport, please contact us at once.