Airport Injury Lawyer Judges National Moot Court Tournament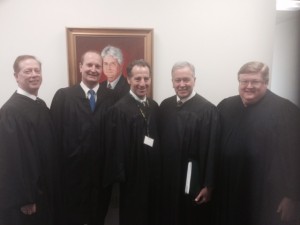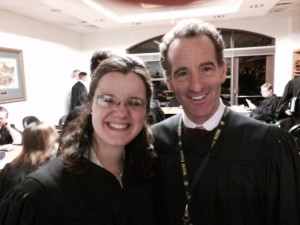 Virginia airport injury lawyer Doug Landau was selected to participate as a judge in the 44th annual William Spong Moot Court Tournament held on February 13-14, 2015 at the William & Mary Law School in Williamsburg, Virginia.
Landau was one of 10 practicing attorneys and members of the Virginia Trial Lawyers Association (VTLA) asked to take part in this highly esteemed moot court competition. He was honored to serve alongside actual judges from: the West Virginia Supreme Court; U.S. District Courts from Pennsylvania, Maryland, and Iowa; as well as the Supreme Courts of West Virginia, Minnesota, and New Jersey. In addition there were judges from the Richmond Circuit Court, Hampton Circuit Court, and Virginia Court of Appeals.
Attracting competitors from top law schools from around the country, the tournament is named after William Spong, a former dean of the William & Mary Law School.
Landau took a break from his own trial duties to travel from his law office located in Herndon, Virginia — just down the road from Dulles International Airport and not far from Reagan National Airport — in order to make the quick trip to Williamsburg.  He enjoyed the change of pace from lawyer to judge, and appreciated the opportunity to meet and exchange information with so many esteemed colleagues and judges. As an added bonus, he and the other judges got to hear and critique some of the best law student advocates in the United States.  Landau hopes to bring some of the erudite and compelling Constitutional law arguments back home to Herndon in order to help the Rachel Carson Middle School students he teaches with their "We the People" civics and Constitutional Law studies.
For more information about Lawyer Landau, visit the Abrams Landau, Ltd. website.  To learn more about William B. Spong and the tournament named for him, click here.