Family Settles Lawsuit in Death of Boy at Airport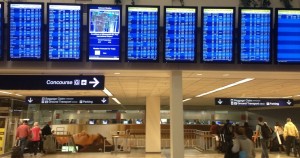 In March 2013, a 10 year old boy was killed at an airport in Birmingham Alabama when a multi-user flight information display fell on top of him and several family members.  The sign weighed several hundred pounds and was unstable, according to a lawsuit filed by the family against the contractors working on a new terminal, the architect, and the sign company.
According to news reports, the contractors were cooperative with the investigation and have since removed the sign.  The terminal now uses entirely different signs which are fixed to the floor and wall so as to prevent similar tragedies.
Recently the boy's family settled the lawsuit with those responsible.  The terms of the financial settlement were not released. The family plans to establish a foundation to help other children affected by tragedy or hardships and encourage them to live life to the fullest, just as their son did.
"I applaud the contractors and others involved in this tragic accident for accepting responsibility and doing the right thing," notes Herndon Virginia injury lawyer Doug Landau.  "Those involved in the design of the signage and airport displays agreed not only to compensate this family for their tremendous loss, but also to make changes to assure similar tragedies don't happen again. This is an example of the justice system at work."
If you or someone you know has suffered injury while at an airport and there are questions as to who is responsible and what laws apply, email or call Abrams Landau, Ltd. at once (703-796-9555).