Orange is the New Black — Box, That Is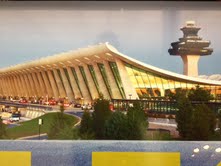 Did you know that airplane "black boxes" are, in fact, ORANGE?
The intense search for Malaysia Flight 370, which disappeared in March of this year, brought renewed attention to these devices that record details about a plane's trip.
Airplanes actually have two boxes on board — each roughly the size of a cantaloupe.  One is a flight data recorder and the other a cockpit voice recorder.
The cockpit voice recorder captures conversations from inside the cockpit.  The flight data recorder picks up at least 88 data points, and upwards of several hundred to a thousand, to track the plane's performance throughout a flight.
Airplane Black Boxes Studied in Washington, DC
There are only a handful of labs in the world capable of deciphering flight data recorders, and one of them is in the District of Columbia. The U.S. National Transportation Safety Board (NTSB) dissects black boxes right here in our own back yard!
Locating the black boxes is key in determining the cause of airline disasters.  A recent article in the Washington Post provides detail on how some well-known disasters — including 9/11's Flight 93 — were investigated with the help of the cockpit voice recordings.
"Finding the black boxes after an airline disaster can bring at least some closure to loved ones left behind," notes Herndon airplane crash lawyer Doug Landau. "For family members searching for answers, the wait for information about the cause of an accident  is excruciating.  The whole world is waiting for news about Malaysian Airlines Flight 370.  We can only hope the boxes will be found quickly and that they provide the clues necessary to solve the mystery of what happened to that plane. Perhaps this information will also prevent such disasters from occurring in the future."