Challenges of Travel for the Developmentally Disabled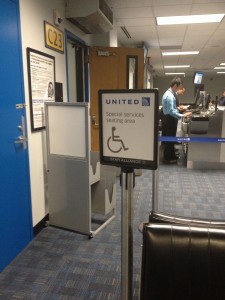 A recent situation at the Baltimore Washington International (BWI) airport highlights the problems faced by developmentally disabled individuals and their families when seeking accommodations for air travel.
A 53 year old, developmentally disabled woman who cannot read, write, or use a phone was left to wander around the terminal after landing at BWI while the volunteer assigned to meet her at the gate was denied a pass by US Airways.
The airline insisted it was following federal regulations when it refused to let the volunteer through security, stating in an email that issuing a gate pass is "at the discretion of the airlines and TSA."  The email goes on to say "passengers who are incapable of taking care of themselves in case of an emergency will not be allowed to travel on their own."  (Source:  Washington Post)
Ultimately, with the assistance of another volunteer with access to the BWI arrival area, the woman was found and made it home safe and sound.
But this brings up the issue of the rights of the disabled.
The Air Carrier Access Act prohibits discrimination against air travelers with disabilities, including mental impairments.
US Airways' website includes a page dedicated to policies and special needs, but does not have a section on accommodations for people with developmental disabilities. Instead, the airline's policy basically says individuals with developmental disabilities must travel with a companion, who must purchase a ticket.
So how are the rights of the disabled — particularly those whose disability is developmental and therefore not necessarily visible — protected during airline travel?  How can we be certain disabled travelers won't be treated unfairly, discriminated against, or even put in harm's way because of their disability?  Instances of violations of travelers rights are not infrequent, unfortunately, and at Abrams Landau, we help our clients and their families seek justice when they have been injured as a result.
If you or someone you know has been injured due to discrimination during travel because of a disability, and there are questions as to what laws apply, email or call Abrams Landau, Ltd. at once (703-796-9555).