Strip Search of Airline Employees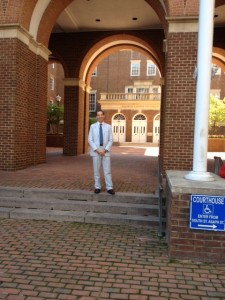 When an airline employee is injured, the insurance company or their defense lawyer will want to see medical and other records — not only from the date of the accident, but records going back many years. Why ?
Dulles Airport area injury lawyer Doug Landau was in court this week on just such a case. The defense lawyers asked for the injured party's medical records going back to her birth, and even suggested they wanted her mother's medical records!  Since the case involves a vehicular crash and allegations of traumatic brain injury, insurance defense counsel sent subpoenas to every single one of the injured woman's health care providers.  Mr. Landau's client was born in 1954, meaning 60 years of records would need to be provided — possibly more if the judge would agree to give the injured woman's mother's records as well.
Lawyer Landau, shown standing in front of the Alexandria Virginia Courthouse, argued the insurance company should NOT be given 60+ years of medical records from the injured woman's doctors, therapists and other specialists.  This is the equivalent of "strip mining" for evidence.
Landau told the Circuit Court judge he had sent all of the medical records in his possession to the insurance company and the defense lawyers when he filed the lawsuit, before he had been asked to do so ! In this courthouse, located just down the road from Reagan National Airport, Landau further asserted the insurance lawyers were not able to point to anything in those records that suggested any significant medical problems relevant to the case  prior to 1995. While his client did have a prior car crash involving traumatic brain injury several years ago, lawyer Landau argued the defense could point to nothing in the records even remotely related to the current incident any further back than 20 years.
The court agreed with Landau, limiting the insurance defense lawyer's "fishing expedition" to records and healthcare providers from 1995 to the present, and declined to allow them 35 or more years of records and those of her mother during pregnancy.
Furthermore, the Alexandria City Circuit Court judge required insurance defense counsel to provide Mr. Landau with copies of all records provided through the subpoenas they sent, and they had to do so within two weeks of receipt. Landau noted, "many defense firms will sandbag a plaintiff's lawyer, by either not providing copies of records they receive under subpoena (which may be different if they were voluntarily provided), or by providing records very late in the game prior to trial."
As this case is set for a jury trial in Old Town Alexandria in early 2015, Landau notes that the Abrams Landau Law Shop's practice is to avoid surprises and prepare as early as possible.  He concludes,
"it amazes me how insurance defense lawyers will seek decades, if not a half century's worth, of medical records, while billing insurance companies hundreds of dollars an hour, in order to conduct a 'fishing expedition' in the hopes of finding some medical treatment or doctor's note in the injured victim's deep dark past that they can then use to confuse a jury, reduce a verdict, or sidetrack a workers' compensation judge so as to avoid paying full compensation for the harms and losses caused by the unsafe defendant.  These 'strip searches' of the injured airline employees' records really run rough shod over any thought of personal privacy."
If you or someone you know has been injured at an airport or in an airline-related incident, due to no fault of your own, and there are questions as to what laws apply, email or call Abrams Landau, Ltd. at once (703-796-9555).