What if my luggage causes injury at the airport ? (Part 3 of 3)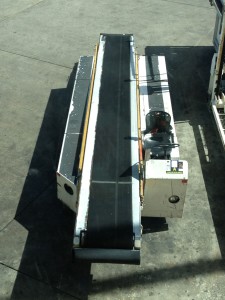 "When there is an accident involving a member of the flight crew, ground, terminal or security employees, there are three potential remedies available under the law," according to airport injury lawyer Doug Landau. In this week's prior posts, we discussed accidents involving passengers and the traveling public. Now let us examine the rights of airport workers and airline employees.
If an airline or airport employee is injured by a passenger's luggage in the terminal, by a racing traveler with an overfilled cart trying to get to a gate, or an overzealous individual with an oversized bag at the luggage carousel, they can bring a workers compensation claim with their employer's comp carrier for their: medical care, related expenses and partial wage replacement. The injured airline or airport employee may also be able to bring a negligence case for all of the harms and losses caused by the traveler's unsafe actions. If the injuries prove to be disabling, not only from the airline or airport job, but from all jobs found in significant numbers in the national economy, the injured worker may be able to bring a case for Social Security Disability benefits, regardless of his or her age. If a piece of luggage pops out of an overhead bin, falls off of a mobile conveyer or out of the belly of a jet, it is likely that the only viable claims would be for workers compensation and Social Security Disability benefits, as these are "no fault" administrative claims.
At the Herndon law firm ABRAMS LANDAU, Ltd., we have helped injured workers who have had a workers compensation claim AND a negligence case AND a Social Security Disability claim arising from the same incident. It is important to coordinate all claims stemming from the same incident, and there are cost saving and other efficiencies in having all related claims handled "under one roof." Plus, negotiations with the Workers Compensation insurance company are required in any case where the injured airport or airline worker makes any "third party recovery" due to someone else's negligence. Also, as there may be a set off of benefits due to the receipt of Federal Social Security Disability benefits, a law firm that regularly goes to court on all three kinds of cases would be able to advise an injured airline or airport worker and his or er family as to their legal rights.
If you or someone you know or care for has been injured while on the job at the airport or while working for an airline, as the result of an airport terminal, airplane or other air travel related accident and there are questions about what laws apply, e-mail or call us at ABRAMS LANDAU, Ltd. (703-796-9555) at once.