Dulles Airport Access Road — They're Watching You!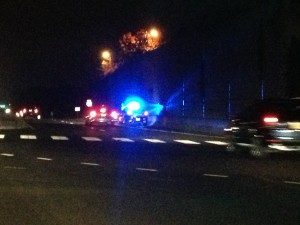 According to an article in the Herndon Patch, Metropolitan Washington Airports Authority (MWAA) and State Police will be cracking down on drivers who jump out of traffic on the Dulles Toll Road (Rt 267) and take a toll-free ride on the Dulles Airport Access road.
Using the airport road for non-airport business is known as "backtracking" and is illegal.
The increased police presence means drivers who try to either (a) avoid the toll or (b) bypass traffic on 267 probably should consider not doing so!  The fine can be as much as $92, plus points on your driving record.
Hardly worth it, says airport lawyer Doug Landau.  The purpose of the airport access road is just what its name suggests.  It is there to provide access to and from Dulles airport.  Passengers, crew, airport employees — and the smooth operation of the entire airline system if you think about it — depend upon this road to reach the airport safely and on time.
"Drivers who purposely misuse the airport access road should be fined and given points for illegal moving violations," says Landau.  "But now you have been forewarned — THEY WILL BE WATCHING!"  When commuters suddenly jump into the express lanes from the local lanes, it creates unnecessary danger to innocent car, airport bus and taxi drivers and passengers.  If you or someone you know has been injured at an airport or while traveling to or from an airport, and there are questions as to what laws apply, email or call Abrams Landau, Ltd. at once (703-796-9555).