Dulles Airport and Reagan Airport Traffic Increasing in the Air, on the Runways AND at the Terminals !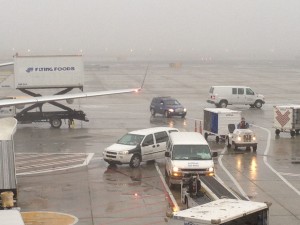 The infrastructure investments at Dulles ("IAD") and Reagan National ("DCA") have helped the growth of both Northern Virginia International Airports. Dulles has experienced a steady increase in its international air service every year since 2003. For example, the airport reported in early 2013 that Dulles had become the second largest gateway in the world to the Middle East. According to Virginia Business Magazine, Reagan continues to have strong demand for domestic service. Reagan Airport outside of Washington, D.C., had its most traffic ever last year.
With the increase in passenger and jet traffic comes the need for proportionate safety services. "Elimination of the midfield terminal buses in favor of the underground terminal trains at Dulles Airport is a step in the right direction," notes Herndon airport safety lawyer Doug Landau. "Likewise, Metrorail service to the Dulles Terminal should reduce the number of passenger and airport employee car accidents and injuries, even in the face of expanding numbers of travelers and airline workers. The Airport Taxi Cab Company's loss might be the public (and Metro's) gain. There is a lot to be said for being "green" and safe. Following the incidence of accidents and injuries on the Air Operations Area ("AOA") and comparing it to those on the other side of Dulles Airport's "sterile area" will demonstrate whether mass transit to the international airport reduces the incidence of injury."
If you or someone you know or care for has been injured while doing their job at an airport, or as the result of an airport slip and fall, vehicle crash or other air travel related accident and there are questions about what laws apply, e-mail or call us at ABRAMS LANDAU, Ltd. (703-796-9555) at once.