Running on the Runway – Legally !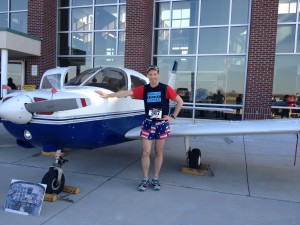 After having seen movies where there's an exciting chase scene on an airport runway, it was a thrill for Herndon lawyer Doug Landau to actually get to be in a chase scene of his own.  In this case, lawyer Landau was chasing other runners in the Manassas Runway race ! In his own version of "Catch Me If You Can," Landau bested all but 10 other competitors, averaging 6:40/mile and winning his age group.
When jets are taking off, landing and taxiing on the Air Operations Area ("AOA"), the runways and tarmacs are not safe places if you have not had airport safety training.  However, Kent Barker and the folks at Bristow Tri and Swim  made sure that the premises was safe, with plenty of well-trained volunteers. The Bull Run and Manassas Rotary Clubs benefitted from the event's donations. The Rotary Club of Manassas consists of approximately 60 members who meet weekly for lunch at the City Tavern in Old Town Manassas.  Like the ABRAMS LANDAU team, the Manassas Rotarians are working to address community needs with a special emphasis on children's health and education. If you have ever wanted to run on the runway and other "sterile areas" of a Northern Virginia airport, this race is for you.  Fast, flat, few turns and spectator friendly.  What Prince William runner could ask for anything more ?!!?