At the Airport who goes first ?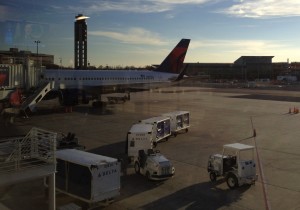 When we were kids, there were always arguments about who got to "go first."  But at the airport, this question takes on great importance.  With large jets, small luggage tugs, turbo props and fuel trucks all using the same surface area, air travelers wonder how chaos is avoided when there are no "aircraft traffic cops" out on the runways !  On the Air Operations Area ("AOA"), "there is a definite pecking order," according to airport injury lawyer Doug Landau of the Herndon Virginia law firm ABRAMS LANDAU, Ltd.  "We have tried a case where one airport employee tried to "play chicken," with another craft operator on the AOA, resulting in permanent injury to our innocent client. We have helped other airline employees injured when luggage tugs crash into other airport property, and when airline maintenance vehicles are struck by airline equipment operators.  Lawyer Landau adds, "These international airport accidents can result in both state workers compensation claims AND personal injury cases.  Disabled airport workers, airline employees and passengers need to know their legal rights and time limits, as there are special rules that can make or break a case."
Landau adds, "Unlike the school yard playground, at the airport, the Air Operations Area does not have a "first come first served" system.  Large jets have priority over luggage tugs, and fuel trucks may have priority over other vehicles near the runway.  Outbound flight crews traveling in the airport buses have priority over the incoming, as they free up gates and have time deadlines. We saw in one case where the midfield terminal vehicles reached the intersection simultaneously, that the airport procedure was for the outgoing transport to have the 'right of way.' When the incoming midfield terminal bus did not yield, the airport authority admitted that this was negligent and the case proceeded to the jury on the question of causation of the injuries and the extent of the damages."
If you or someone you know or care for has been injured as the result of an airport vehicle crash, fall or other air travel related accident and there are questions about what laws apply, e-mail or call us at ABRAMS LANDAU, Ltd. (703-796-9555) at once.