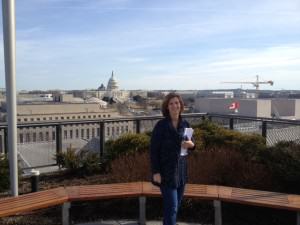 Melissa Landau Earns DC Real Estate License
February 4th, 2014
Law Shop
Abrams Landau, Ltd. congratulates Melissa Landau, wife of attorney Doug Landau, on becoming a realtor licensed in the District of Columbia!  Melissa, who has been licensed in Virginia for over a decade, is affiliated with Flynn Realty Associates and Keller Williams Realty in Reston, Virginia.
Residents of northern Virginia understand just how close by Maryland and the District of Columbia are to the Commonwealth.  Really, just a hop over the Potomac River at one point or another brings you into one of our neighboring jurisdictions.  In fact it is not uncommon for people here to live in one state and work in another.
This is why Melissa decided, after more than a decade in business in Virginia, it was time to expand into Maryland and DC.
First up?  DC!
While taking a class in DC Fair Housing Laws late last year, Melissa, mother of 4 grown children — each of whom over the past decade has taken and passed numerous classes, exams, etc. — had this to say:  "Why leave exams and licensing to the kids when I can suffer along, right?"  She passed with flying colors and now is proudly able to help clients buy and sell homes in Virginia and DC.
Next month, she expects to complete the licensing requirements for the state of Maryland as well.
Congratulations, Melissa!
Melissa, who wears another hat as the Bookkeeper for Abrams Landau (as well as the controller over lawyer Landau's allowance!), can be reached via email at Melissa@landaulawshop.com or MelissaMyRealtor@gmail.com, or by phone at 571-437-7703.