Triathlon Lawyer Landau Interview
1. What inspired Landau to start competitively biking?
Doug Landau has been riding a bicycle since childhood, and even rode for his newspaper route! With no car from high school through grad school, Landau continued biking to work, class & around town. He rode in his first competitive bike race in law school, as his roommate always biked, and he thought training in bike racing  would help him in triathlon competitions. Landau didn't do very well as a bicycle racer in the beginning, but has worked hard and put in the miles. He has competed in the Virginia Senior Olympics and won medals a few times in the time trials. However, Landau prefers the non-drafting format of triathlons, because he believes it's safer.
.
2. Has Landau had any role models, if so how have they affected his journey?
While Landau doesn't draw inspiration from specific famous triathletes, his family continues to encourage him. "I've been inspired by my brother and my sister. My father was a very good natural athlete, and my mother still plays racket sports at a high-level at age 87."
.
3. How does he actively promote triathlons?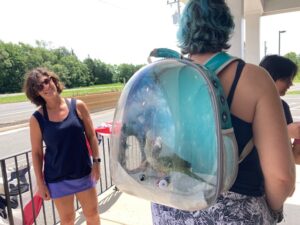 Through our websites, specifically our sports website, Landau likes to write about unusual races or events. He also likes to feature races that support wonderful charities, such as: Northern Virginia Therapeutic Horse Riding, the Chesapeake Bay Foundation and The Wounded Warrior Project. Landau sponsors Kinetic Multi-Sports Virginia & Maryland series. This encompasses 21 weekends of events, enabling participants to do triathlons, duathlons, aquavelo, and bicycle events. In addition, Landau is a sponsor of the Franklin Farms Frogger Swim Team, and many talented swimmers do then go on to become excellent triathletes.
.
4. Does Doug have a favorite part of the triathlon (the running, swimming, or biking portion)?
As a runner, Landau's favorite event is running, followed by bicycling and swimming. Landau competes in shorter events, where the transitions are more important. This year, he competed for the first time in the National Super Sprint and Super Sprint Relay Competitions, qualifying for World Championships in both events. Taking swimming seriously as a Masters, Landau improved to being able to swim a 21 minute mile. "I've always had to play catch-up on the run, but you cannot give away 3 to 5 minutes in the swim in a national or international race."
.
5. What does Landau do to prepare for big events like the National & World Championships qualifiers?
"To prepare for the US National Championships, I will generally increase the intensity of my training, with over-speed training, intervals with less rest, and then, about a week to 10 days out from the race, reduce the volume considerably, so as to "taper" for the big event. I will incorporate naps, stretching, and massage. I have to be careful not to eat the same quantity, with a reduced caloric expenditure; it's just a great way to gain a lot of weight right before the big race. It's a very hard balancing act, and I don't think I've quite mastered it. I was pleased this past April in the US National Multi-Sport Festival, where I competed every day for four days. I did not have any soreness, stiffness difficulty maintaining intensity. I was still surprised to not have delayed onset muscle soreness ("DOMS") as that would've been expected."
.
6. Have you met any clients while competing?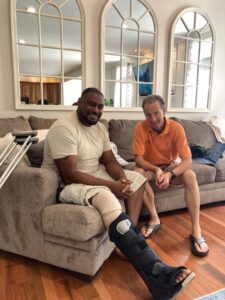 Before Covid, Landau routinely met clients at competitions. Doug published his schedule, and if we had a client nearby, it would be much easier for them to meet with lawyer Landau in their backyard than if they came to Herndon. "As long as clients are comfortable with me without a lawyer suit, I don't mind seeing them before or after races when staying in another State or County close to them. I have visited with clients in Sydney, Australia after a World Championship, and Co-Counsel in Penticton, Canada after another World Championship. Because we have represented injured triathletes and cyclists, I have competed against former clients. Depending on how you look at it, fortunately or unfortunately, some have have clobbered me in races. I enjoy meeting with clients all over the country, and I hope that as things return to pre-pandemic, I will have the opportunity to do so again."
.
7. Do you have any pre-game rituals (meals, music, outfits, etc)?
"My pre-game ritual consists of: A strong pot of tea, orange juice, Emergen-C, a very light meal of perhaps banana, pancakes or waffles. Something easily digestible. Most of my races are early in the morning, but if it's a midday race, I still don't eat anything particularly heavy. In an Olympic distance race, I will have a bottle of electrolytes and carbohydrates, as well as some Gus or gels. For races less than 40 minutes, I'll maybe have only a small aero water bottle. Post-race, I am very diligent about getting 20g of protein into my system within 20 minutes of finishing, but sometimes I'll have pizza or other food instead. I don't have any lucky charms, though I am one of the only competitors in the National and International competitions that has a bell on my bicycle. I do that for safety, but at the World Championships in Australia, they had to have two committee meetings to determine whether I would be allowed to have this audible warning on my bike. They eventually realized that saw there was no advantage, it wasn't aerodynamic, and it was extra weight on my rented bike! And as many competitors didn't speak English, it wasn't a bad idea. Otherwise I have no special rituals other than to do a little bit of stretching and warming up, and a little bit of race course familiarization."
.
8. How much racing merchandise do you get per competition? What are the different souvenirs?
"Most races' swag consist of: a T-shirt, finishers medal, some items from sponsors, or sports nutritional products. Podium medals are nice, but I like usable objects. Pint glasses, a telescope, trivets/cutting boards, towels, hats, sweat bands, bike lights, beach towels, hats, and other usable items are things I prefer. I've reached such a critical amount of race T-shirts, that my wife has me throw out three old ones to bring a new one in! With most of the swag accumulated, I make periodic donations to the Herndon Neighborhood Resource Council, the Free Clinic, and other charitable organizations. I don't like waste, but I do wish more that more races gave running shorts or pants. The best prize I ever saw was a scale miniature model of the Iwo Jima Memorial given to the winner of the Marine Corps marathon triathlon. The winner was a Lieutenant Colonel in the Marines, and he said it was the perfect mantelpiece for him, and was quite touched by the effort put into it. As one of the divisional winners, I was invited back days later to have a private tour of the Marine Corps Memorial Museum, with the other winners and private marine escorts, which is pretty spectacular. Another prize I really liked was a small telescope from the Jamestown Triathlon. It came in an embossed box with an anchor that looks like a navy insignia, so I was able to give this award to my son, who was in the Navy."
.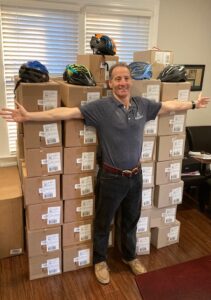 9. What preventative measures do you take to prevent an injury?
"I make sure my helmet is in good working order and properly clipped. In addition, I try to preview the course, so I know where there might be potholes, glass, or other dangerous elements. While I used to not take on water during races for most of my career, I now bring water and splash my head for hot races. I don't mind the heat or the humidity, but you want to keep the fluids coming during longer events. Lastly, I get my bicycle regularly tuned up at the Green Lizard or Transition Triathlon so that it is safe to ride. I always bring extra swim goggles that I can see where I'm going, and wear a heart rate monitor."
10. How do you balance being a lawyer and athlete?
"I balance being a lawyer and a triathlete by trying to incorporate both efficiently. Once I know I have a case in another state, I look for a race that I might be able to do en route. When I get to the location, I'll look for a space to see a client in person while I'm there. I also look for family or other friends, and it has worked out very well. It's rare that I go, and don't make a pit-stop to visit with a client, friends, see a place I've never seen, or take photos or measurements for one of our pending cases. It's 'Cases, Races, Places & Faces!'"
.
If you, or someone you care for, need any legal advice or have experienced an injury through no fault of your own, while training, racing or just participating in a recreational activity, please contact  frontdesk@landaulawshop.com  or call (703) 796-9555