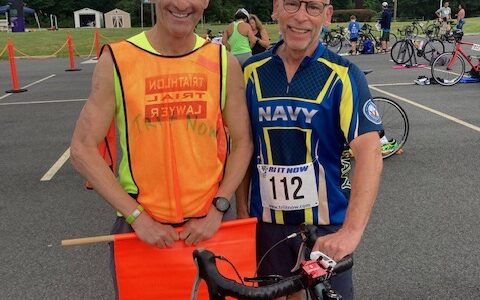 All smiles at Tri It Now triathlon at George Mason University Manassas Campus/Freedom Fitness Center
Celebrating his 23rd year, Tri It Now put on popular, fun races in Northern Virginia. Most of their Triathlons, Duathlons, and other multisport events take place at the fantastic George Mason University Prince William campus. The Freedom Fitness Center has a wonderful pool that hosts championship swim meets, locker rooms that are always clean, and a friendly, helpful staff. There are showers, steam room and other facilities that participants can access after the races. In addition, since the running and much of the biking is conducted on campus, it is a relatively flat, safe venue for beginning triathletes and multisport enthusiast to test their mettle. 
Race director Ina Nenninger does an outstanding job of explaining everything to participants, and volunteers and race crew set up courses that are spectator friendly, safe, and usually short. This enables new triathletes and multisport racers to get familiar with combining two or three sports at one time. This summer, Doug Landau was again a volunteer at a Tri It Now race. He was given the important job of being a flagger for both the bicycle course and the running routes.  
Even though athletes ranged from professional to first timers, Landau only saw one crash, in which no one was injured (a cyclist hit a curb and then quickly recovered).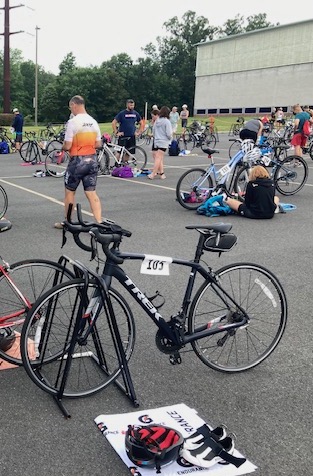 Lawyer Landau did see one racer wearing his helmet backwards, and another racer not in his shoes, a number of runners walking, and plenty of smiles. Most of cyclists had good communication and safe passing skills. With some 150 entrants, the field was not overwhelming and everyone had space to maneuver. There was plenty of police protection and ham radio support, and the area in the Transition area allowed for plenty of freedom of movement. The racers could avoid being on top of each other, which is usually the case in larger races of several hundreds or thousands. No one had any problem finding their bicycle, or re-racking after the bike leg, unlike in much larger events. If you are new to Triathlon, or want to try a duathlon , aquathon or be part of a multipart relay team, Tri It Now's events are an excellent place to start! Try it, you'll like it!