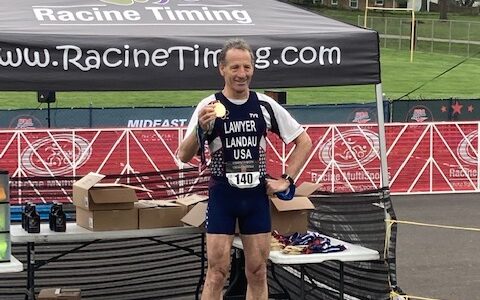 Lawyer Landau wins 2021 Mid-Atlantic Sprint Duathlon title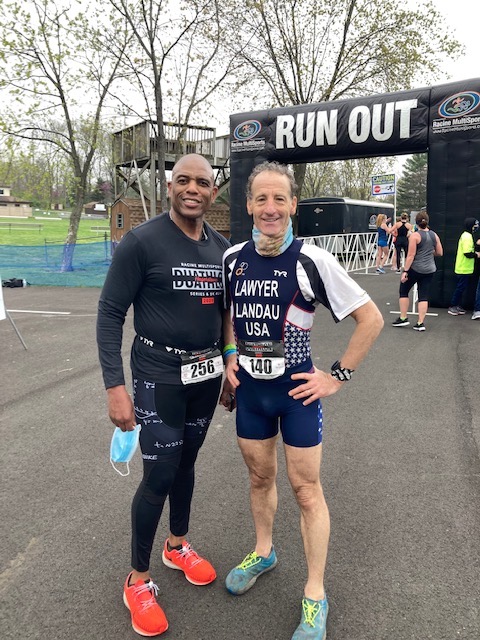 With the 2021 racing season starting under strict Covid protocols, the rescheduled USAT Mid-Atlantic Duathlon Sprint Championships were held this weekend in Hagerstown, Maryland. Racine Multisports, which has held a number of virtual events during the pandemic, once again held this popular event at Marty Snook State Park. In this slightly shorter sprint run-back-run format, an opening 1.9 mile run, followed by a hilly 10 mile ride (with railroad tracks and speed bumps!) and finishing with a 3.1 mile run meant that there would be no margin for error.  Unlike Ironman and Half Iron competitors, who can sit, shower, change clothes, sprint races require a minimum of time between stages and no chance to let your heart rate come down at all.
Athletes of all ages and sizes and skill levels showed up, on a drizzly cold wet Saturday morning to determine who would be the champions for this region in the run bike run sprint format. Unlike most such races, the longer run would be AFTER the hilly bicycle portion. Usually, championship races are at the end of the season. Usually Doug Landau prepares to "peak" late in the season. So August, September, October are when these most important races are usually contested. However, the pandemic turned things upside down, and delayed or caused a cancellation of many events. USA Triathlon organization sanctioned this championship, and outstanding race director Ken Racine and his crack team were up to the task. In addition to the usual swag, long-sleeved T-shirts and numbers in the race packet, there were disposable masks. In addition, the Racine Multisport personnel had masks for when racers crossed the finish line. There were water bottles on the course that you could take off of the table yourself, and the award ceremony was set up with holding pen so that the photographers were sequestered from the spectators, and the athletes were in another area so that they could mount the podium and take off their masks for pictures.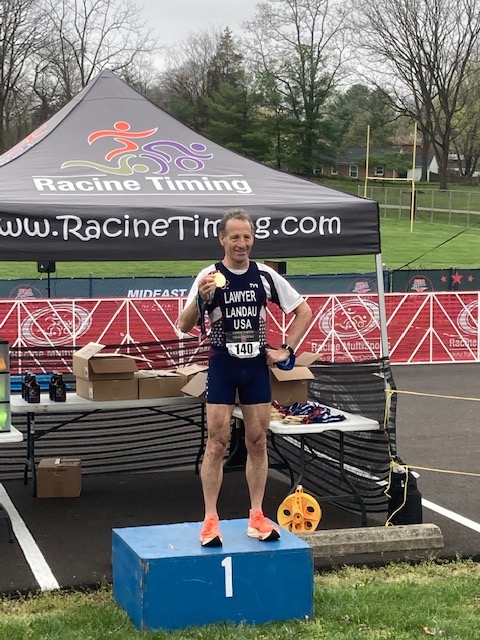 Doug Landau had previously competed in the Hagerstown DUathlon, and had managed a few podiums in Racine races, but this was to be his first multisport race of 2021, and the first since his September bike crash. With much of his training indoors, lawyer Landau was keen to see if he could be competitive. Just as he does for his cases, Landau invested time in previewing the course and familiarizing himself with the dangerous portions of the road. In a championship race,  like a jury trial, it is critical to know the road ahead.
To keep the athletes separated, Race Director Ken Racine sent them off "time trial style" every 10 seconds. The racks for transitions were sparsely populated, and athletes were numbered in line with when they were registered. So, Landau's rack was not all athletes in his category, but from all ages and genders. So returning to your transition rack, you could not tell if you were ahead or behind the others in your age group. Plus, with the time trial start, runners faster than you and in your grouping might be starting minutes behind you. Landau dashed off for the first run, but his speed is not where it needs to be for a top overall finish. Coming into transition, he knew that a quick T-1 could keep him in the race. His transition was quick but no perfect. Battling with other riders on the course, Landau was surprised at how many did not signal for passes or other potentially dangerous maneuvers in this non-draft legal race. Giving full effort on the bike, Landau passed several racers coming in to T-2, and had another transition in under a minute. Taking off on the longer run, Landau's hamstrings started seizing a mile into the course.  A spasm would cause him to stop like other racers on the course. Landau powered on, and managed to hold off others in his group to the finish.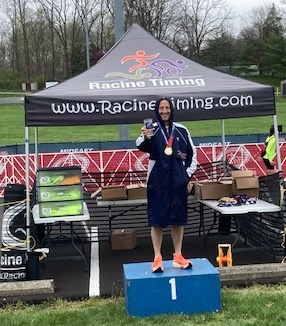 While his time was over a minute slower than his 2017 time, due to his less than stellar runs. Nevertheless, when the final results were tallied, Landau had won his age group by 10 seconds on the strength of his transitions! He now adds this USAT Mid-Atlantic Sprint DUathlon Championship title to his USAT 2019 Sprint Traithlon Championship. These championship races were not held in 2020.
Doug Landau next races in the ITU World Qualifier, which has been moved from Arizona to Richmond, Virginia! This sprint triathlon race will be held at Innsbrook on May 2nd and top finishers will join TeamUSA in Hamilton, Bermuda in October. Then, as USAT Championship racing is early in the season, lawyer Landau goes to Tuscaloosa, Alabama for the DUathlon National Championships. He hopes to have a top finish in the non-draft Sprint race and be able to represent the United States in international competition again in 2022.  He is already on TeamUSA slated to go to the re-scheduled 2021 ITU Multisport World Championships in Denmark, in September.  For that race, he hopes that  his mother,  who has been living with him for much of the Pandemic, will accompany him as his "special agent" Before these international races, there are many Kinetic Multisport events and other running, DUathlon, Triathlon and Aquathon events to participate in. While now in a new age group, Landau is training hard for success in Grand Masters competition. Just last week he transitioned into brick training and found himself hobbled by mid-week MACCAS at Claude Moore Recreation Center in Sterling. Stay tuned for more racing news!