Are Neck Gaiters Worse Than No Mask at All?
Neck gaiters, a tube of usually stretchy, thin fabric worn around the neck, have been popular amongst outdoor runners and cyclists during the coronavirus pandemic because they are lightweight and can be easily pulled up to cover the nose and mouth to use as a mask. A recent Duke University study, however, had put the Internet into a frenzy when it found that "some cotton cloth masks are about as effective as surgical masks, while thin polyester spandex gaiters may be worse than going maskless."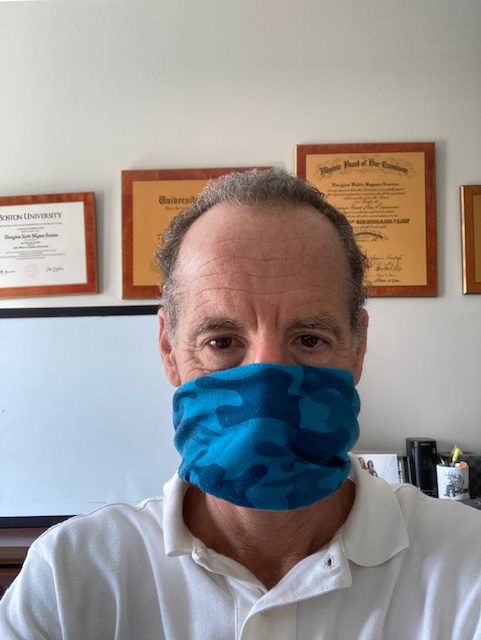 The Washington Post article that brought this small study to the mainstream, followed by the New York Times article rebutting it, created an online debate as to what was the truth in regards to these face coverings. The small study from Duke used a new, inexpensive testing method for masks that uses lasers and phone cameras and when tested on a thin, one-layered neck gaiter, "the scientists observed a slight increase in the number of expelled saliva particles when the person wore the gaiter than when the wearer wore nothing at all."
In response to this study, aerosol scientists have conducted their own experiments with neck gaiters. One study showed that "when a single-layer gaiter is worn doubled up, it is highly effective at blocking a range of particle sizes" and "cast doubt on the Duke researchers' theory that the breathable fabric was somehow responsible for creating the smaller droplets their device created." You can read more here.
The ongoing debate over the effectiveness of gaiters shows that on a larger scale, there continue to be so many uncertainties around the pandemic and we are still discovering new things. It is also not as straightforward as it may seem to test non-medical-grade coverings. Christopher Sulmonte, project manager for the Biocontainment Unit at John Hopkins Medicine, said, "We're looking at types, we're looking at materials, but it's also how those materials are formed into the mask or how many layers the mask has. There's a lot of variables that have to be considered."
When choosing a mask, he urges people to prioritize "fit, function and frequency: whether the mask fits properly with little to no gaps, whether the material is opaque and layered, and whether it can be worn consistently." He also states that "by design, gaiters are harder to remove safely, because pulling them down involved touching the fabric, which may be contaminated."
So, although it seems as though that neck gaiters are not worse than wearing no mask at all, it may be wiser to opt for a more fitted, layered mask with ear loops and without any valves. It is also important to wash them properly and consistently. Click here to read more on the CDC website about the proper way to use and maintain a mask.