Mission Accomplished: Ticket Punched! Lawyer Landau Qualifies for 2020 World Championships
Several local age group podiums do not a TeamUSA spot make. Doug Landau is healthy, not injured and training consistently after last season. However, his times in recent races have been slow. Nevertheless, the optimistic Virginia trial lawyer headed to South Carolina for the USAT Sprint Duathlon National Championships in the hopes of uncorking a stellar performance in order to secure a spot on TeamUSA for the 2020 World Championships.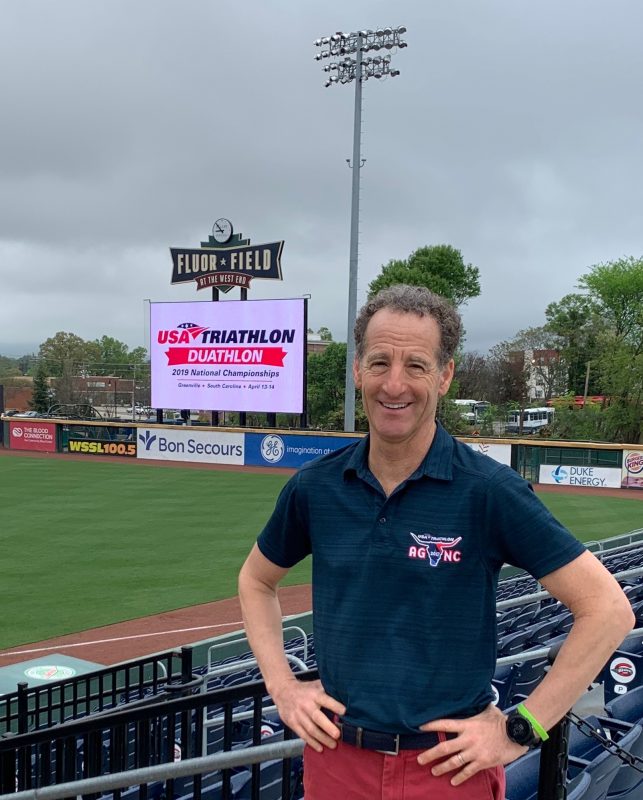 In racing this spring, lawyer Landau was able to win his age group in New York City at the Central Park Duathlon, and attain podium spots in several local 5k and 5 mile road races. But in Greenville, SC, the best run-bike-run athletes in the country would be assembled at the starting line, all vying for a TeamUSA spot. Landau arrived Thursday night after court, and the weather was perfect, warm and breezy. Packet pick up at the local minor league baseball diamond was followed by a preview of the race course with other Northern Virginia athletes by truck, as much of the bike portion was on an Interstate Highway, which would only be closed during the actual racing! Landau tested out his race bike, did a Dynamic Cyclist stretching session, swam at the local long course pool to loosen up after traveling, and even got in a nap. As multisport athletes "taper" their training before a big event, it is also a wise move to get extra rest and recovery, so as to be in top form on race day.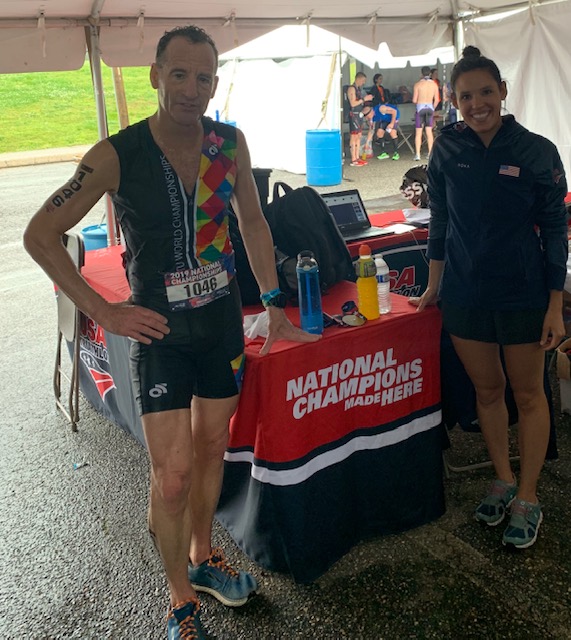 When Landau left Virginia, the weather predictions were dire: Thunderstorms and lightning all weekend. Saturday started off overcast, but the athletes in the Draft-Legal Sprint race had a fine day for their event. Despite weather predictions of lightning and rain, the day was overcast, and then sunny/beautiful. Landau visited with local South Carolina clients on Friday, and former associate attorney Lisa Beaman on Saturday before getting his traditional "pre-race haircut."
Sunday race day, however, had the following text messages from USA Triathlon:
USA Triathlon Live Event Coverage

Also, you are reminded that due to expected high, lightning, thunder, torrential rain, winds, disc wheels may not be allowed. USA Triathlon officials will issue a final ruling an hour before each race regarding disc wheels. Please have alternative plans in place for wheels, gear, racing.

USA Triathlon Live Event Coverage

EVENT UPDATE: Saturday's optional bike check-in for Sunday's standard and sprint races has been canceled for athlete and equipment safety due to potential for winds and rain overnight. ‪#USATDU

SPRINT DISTANCE RACE UPDATE

Due to heavy rain, thunderstorms and threat of lightning this afternoon, the following modifications have been made to the schedule for Sunday afternoon at the USA Triathlon Duathlon National Championships:

The Non-Draft Sprint-distance race will be changed to a super-sprint-distance: 2k run (two laps), 6k bike (one lap), 1.35k run (1 lap)
This meant that racers would not be able to spread out, nor would they be cycling on the Interstate. Nevertheless, the Northern Virginia injury lawyer was thrilled that the race was not cancelled altogether, as high winds and fierce rain pummeled athletes just 20 minutes before race start. Landau took off at the start, with speeds of under 5 minutes per mile, settling into 6:30/mi. pace heading into the first transition.
While his equipment and gear sat in the Transition area, in order to keep his shoes dry, he had covered them with plastic bags, which slowed him down, because the referees were watching closely in order to give out penalties for such infractions as impeding other athletes, "abandonment of equipment," and not clipping bike helmets before taking the bike off the rack. Landau rode as well as he could, despite being buffeted by the high winds on the wet road. His run pace was faster than it had been in any 2019 races, and his heart rate (a good measure of effort) was also higher than any 2019 event. The second run was an all-out sprint to the finish line.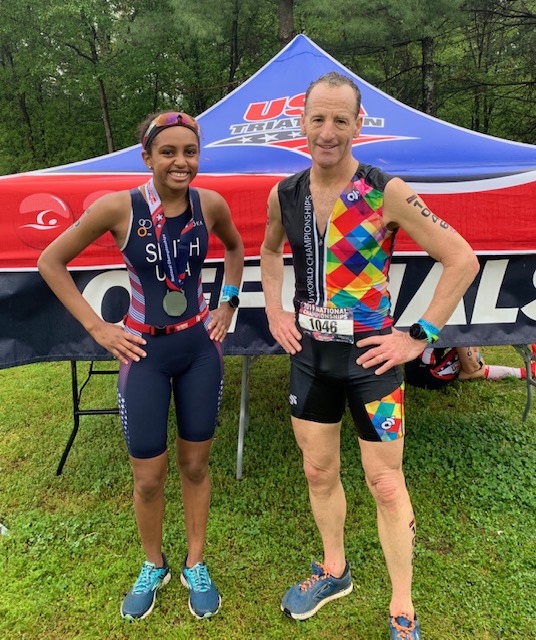 Usually athletes at the National Championships are handed a printout of their splits and overall placings, but this year the storm had knocked out the computer scoring system. Landau was aware of the fact that he was not in the running for a podium spot, but was keen to see if he qualified this year for TeamUSA. He caught up with friends that he sees at these National calibre events and then collected his gear when the transition area opened up for the athletes.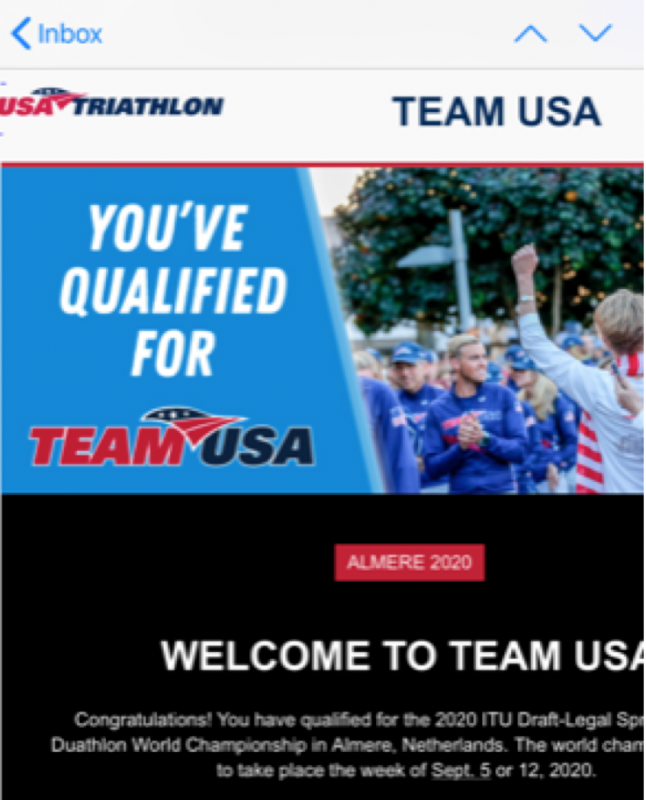 After returning to his Air BnB, showering, stretching and replacing the calories burned, Landau prepared to meet up with a former client who is studying to be a Radiology Tech in Greenville and working in the local Trauma Level One Hospital. Then he got the text informing him that he had indeed qualified for the World Championships in 2020. This made for joyous celebrations that evening over such Southern delicacies as molasses spoon bread, fried green tomatoes and mimosas. He and his friends then drove straight through the storms back to the Landau Law Shop, arriving in Herndon at 3 AM, so as to be able to help people first thing Monday morning.
Lawyer Landau will be competing in 2020 in a new category, as he turns 60 next year. Stay tuned for more racing action, as lawyer Landau continues in his quest "to win all cases and races!"