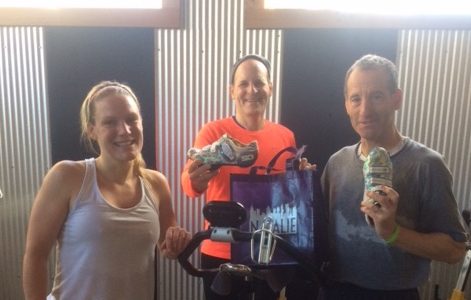 Does Lawyer Landau Have an Off-Season?
During the winter months it is important to let the body recover, heal, and then build a strong base for the next competitive season. Even if Doug Landau were not injured, he would be using the winter months to work on his weaknesses, recuperate from a tough competitive season, and then build an adequate foundation for the 2018 racing season.  Currently, he has no races on his schedule until the April, 2018 USAT Duathlon National Championships in South Carolina.
Since he is not running on dry ground, Landau is running in swimming pools, doing elliptical exercise, and other forms of activity that mimics some running motions. Instead of risking re-injuring his soleus with eccentric contractions, Landau is turning his energies towards working on his swimming speed and bicycling power.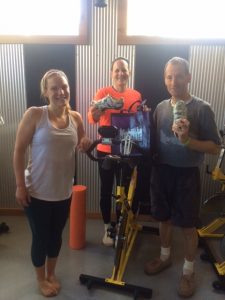 This means that instead of running over the fall leaves, as he enjoys doing, he is in the pool for four to five days a week, and at the Green Lizard Bike Shop hooked up to the VeloLabs computers tow to three days a week. He is also weight, core and strength training four days a week, and working with Dr. Kur Sohn to correct imbalances and increase his flexibility and proprioception.
While on the road, instead of packing his running shoes, Landau is looking for swimming pools, gyms and spin studios. On a recent visit to Connecticut for his high school's "Leadership Weekend," he found time to swim in the competition pool after alumni agent meetings and tried out "The Studio at 41"  in Sharon, Connecticut. This exceptionally well maintained petite gym had spin classes, strength machines, free weights, and core and pilates classes. Landau and his brother took an indoor bike class with Canadian spin instructor Natalie, who made the Landau boys sweat buckets!  Ken Landau then took her core class while Doug showered in order to be ready for his next appointments back at the school. They also enjoyed the local "all you can eat pancake breakfast" at the Sharon Fire Station with Dr. Phil Baldwin.
Landau has learned that "core strength" is important for injury prevention and for holding good form in the latter stages of intense races. Working with the BOSU ("Both Sides Up" hemispheric ball), Therabands, Physioball and other non-traditional strength equipment will hopefully pay dividends next Spring when Landau resumes racing in the Virginia Maryland Triathlon Super Series.  Working on core strength, proprioception and correct form is seen as a long-term investment. Last year's season was married by many races where Landau had to walk, stop or simply did not enter.  It is hoped that with careful training and smart diet and rest, Landau will heal and be more resistant to future re-injury.  Last winter, after his double hernia surgery, Landau walked throughout the Patagonia region of Chile. This winter, with no running on the books, and the weather not permitting of bicycling outside, he will hopefully maintain fitness with his indoor training, cross training, and balance training. What will you be doing this winter to maintain fitness?