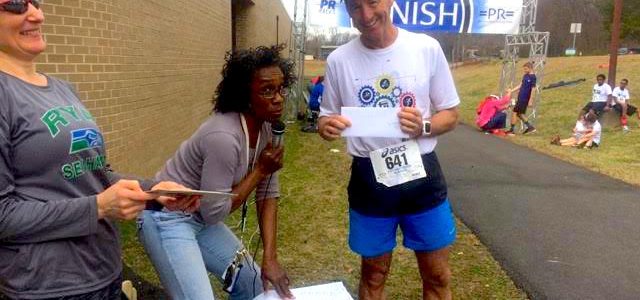 From Civics Teacher to Panther Racer—Lawyer Landau Returns to Langston Hughes Middle School
After volunteering to teach legal procedure and civics at Langston Hughes Middle School (LHMS) in Reston, Virginia, Lawyer Doug Landau saw a poster in the principal's office for the Second Annual "Panther Pride 5K" on Saturday, February 25 starting at 10:00 am. (To read more about Doug's volunteering at LHMS, click here).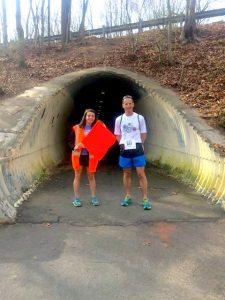 The late starting time, warm weather and time recently spent at the school brought Landau out to race for the first time this year in Virginia. Hoping to see if his "off season" post-surgical training was effective, Lawyer Landau toed the line with a goal of 21 minutes. Indeed, the overall winner was a middle schooler and the 3rd place runner was a member of the local high school track team. In between them was a dad pushing a jogging stroller, who passed Landau at the 2-mile mark and never looked back!
The Langston Hughes Panther Pride 5K promotes running among the student body and raises money to replenish the school's Technology Fund. Langston Hughes Middle School is located at 11401 Ridge Heights Road in Reston, behind Sough Lakes High School. The event was professionally timed by the wonderful folks at Potomac River Running. There were lots of generous age groups and overall awards. This is a good race for younger runners as there were no roads to cross and the "out-and-back" format meant that participants knew the last third of the course (which was mostly uphill!).
Finishing less than a minute behind the winner, Doug Landau enjoyed the unseasonably warm, sunny weather over the twisty, undulating Reston course that took participants from Langston Hughes, past South Lakes High School under Soapstone Road and along the last third of the famous Reston Triathlon course. After teaching 8th graders during the week, Lawyer Landau finished 4th out of 112 entries, easily winning the over 50 category. Full results of the race can be found at here.