Why was Doug Landau Sent to the Principal's Office at Langston Hughes Middle School Last Week?
Lawyer Doug Landau was once again a volunteer teacher, helping middle school students understand how our court system works. He reported to the principal's office at the request of the Fairfax County Bar Association in order to participate with other lawyers in the civics related education program.
Due to the expense of transporting students to the Courthouse, as had been the case in years past, former Fairfax County Circuit Court tour guide Landau was brought into service at the school instead.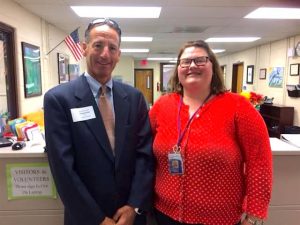 Lawyer Landau used a "marijuana" mock trial to start the conversation with the students. Just as with the 8th graders at Rachel Carson Middle School, Landau pointed out the protections and procedures afforded to every citizen by our Constitution. He said, "We are a nation of laws, and at the core of our Constitution is the right to notice and the opportunity to be heard. The American colonists objected to the one-sided rule of the King of England—the bullying by a monarch who only allowed for one-sided discourse and taxation without representation. Having fair warning as to what is going to happen and a chance to be heard on the subject is the basis for many of our laws and criminal
procedures. For example, a citizen cannot be thrown in jail without being told what the charges are, and they are given an opportunity to defend themselves, unlike what is seen in other non-democratic countries." Landau further noted that our 3 branches of government help keep each other in check, and that contrary to recent pronouncements, no one branch of government is immune from questioning by another.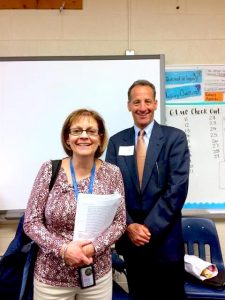 While at the school's principal's office, Landau remarked that in addition to the giving of his time and expertise in teaching the 8th graders, he could also contribute to Langston Hughes Middle School's PTA by participating in the Panther 5K on campus the coming weekend.
At the conclusion of the mock trial, Landau bravely took questions from the class. One of the students asked if Landau was a better runner or lawyer! Click here to read our other blog post to see how the Herndon injury lawyer and teacher did at the middle school PTA's fundraising race.