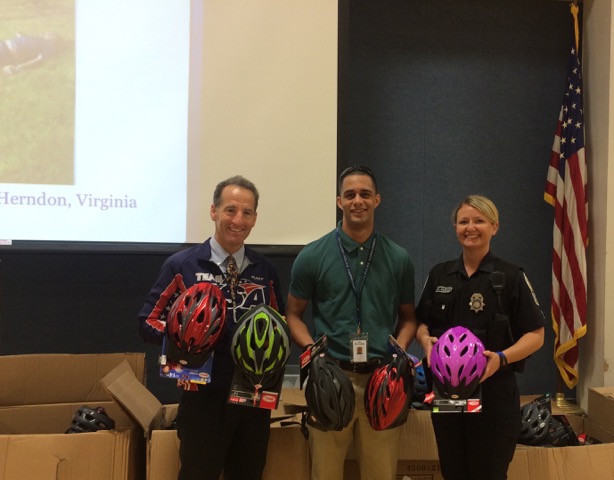 Protecting the Heads of the Class – Free Bike Helmets for Herndon Elementary School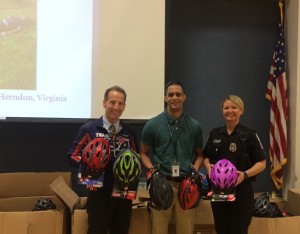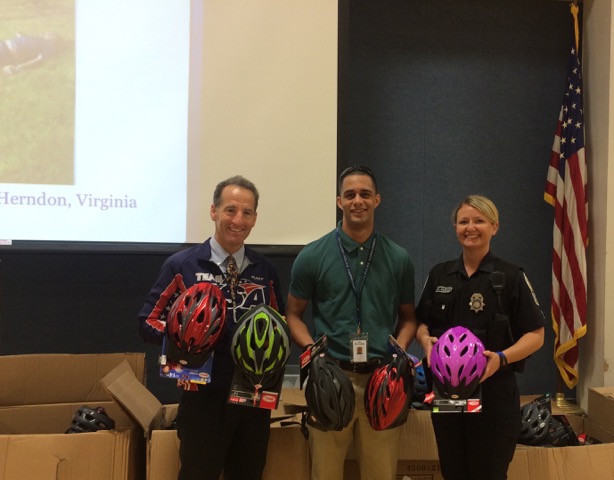 The Herndon Elementary School sixth grade was buzzing with excitement on a recent spring afternoon.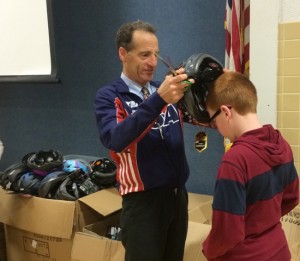 As the students filed into the gymnasium, they were greeted by huge cardboard boxes, audiovisual presentation equipment, and members of the Town of Herndon police force.
Local lawyer Doug Landau was there too.  Landau — dressed not in a pinstripe suit, but in the Team USA uniform — was there to educate the students about their brain in the hopes that he could protect them from unnecessary injury.
After explaining how to avoid needless brain injury by wearing a helmet each and every time they get on a bike, skateboard, rollerboard, etc.,  Landau told his energetic audience that they would each receive their very own helmet, free of charge.  Members of the Herndon police, Abrams Landau staff, and school officials were on hand to see that each student's helmet was carefully fitted.
Furthermore, the labels Landau and the volunteers affixed inside the helmets guarantee that any student whose helmet is cracked in an accident, de-laminated, broken, or not fitting properly would be replaced, at no cost.
Lawyer Landau has provided helmets to all of the six graders at Herndon Elementary School in the past, as he has done for students in the top grades at Hutcheson Elementary School, Rolling Ridge Elementary School, Guilford Elementary School, and elsewhere.
Landau feel so strongly about this program that he is willing to go far and wide to protect schoolchildren from preventable concussions and permanent brain injury.
The Abrams Landau "Putting Lids on the Kids" program is conducted in conjunction with the Virginia Trial Lawyers Foundation, a nonprofit arm of the Virginia Trial Lawyers Association.
Landau stated "I have seen too many clients permanently disabled by preventable traumatic brain injury.   I myself sustained a double concussion.  My recovery took a long time, but was successful because I was able to adhere to a strict rehabilitation protocol with the outstanding team at the Fairfax Family Practice Concussion Clinic."
If you, or someone you care for, has been injured or sustained a concussion through no fault of their own, and is still suffering from the aftereffects of a head injury, and has questions about what laws apply, please contact us at once so that we may see if we can help.  Phone: 703-796-9555 or email.