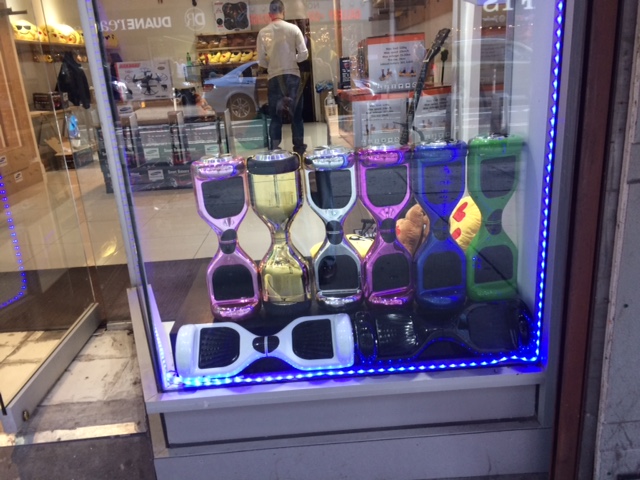 > Hoverboards, Safety and the Law: What are They ?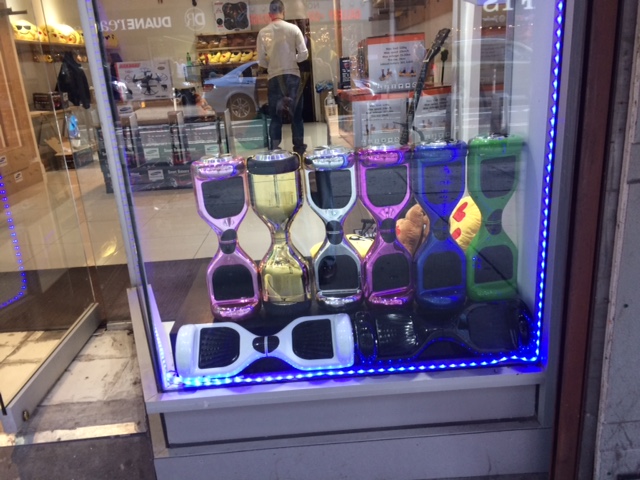 UPDATE December 11, 2015:
Now that hoverboards have been known to spontaneously burst into flames — and have even been banned by airlines — their popularity will surely be impacted. 
It seems their questionable safety goes well beyond the danger they pose to pedestrians and mall walkers as we discussed in this post less than one week ago!
Having seen hoverboards for the first time in New York City this past week, Herndon Virginia lawyer Doug Landau was curious as to how safe these newest personal transportation devices are on crowded streets and malls full of shoppers.
First off, unlike bicycles, the hoverboard has no brakes.
Furthermore, as hoverboards appear to be silent, what warnings are afforded other pedestrians, shoppers, and people legally on the sidewalks and mall byways ?
A recent New York Times (NYT) article entitled "Laws Struggle to Keep Up With Hoverboards' Popularity" address some of these same concerns.
These self-balancing motorized boards have many names among the Trekkie crowd: hoverboards, Segways, self-balancing scooters and even "personal transporters."
Regardless of the nomenclature, lawmakers and others are trying to figure out how safe they are and how to regulate this popular gift because in most places the rules have not caught up with the new technology.
According to the NYT article, "some property owners have banned them for liability reasons, as it is easy to see how a rider could trip on a bump or unexpected curb. And although they have taken the Upper East Side and other parts of New York City by storm, the state classifies them as motorized vehicles that cannot be registered, so riding them in public can incur a steep fine.  In California, by contrast, lawmakers have tried to get ahead of the problem: A new law effective Jan. 1 will allow electric-powered boards to be ridden in bike lanes and pathways, ideally to help commuters break free from cars and bicycle traffic."
The NYT piece further notes that
"This month, the police department at the University of California, Los Angeles, said hoverboards would not be allowed on walkways and in hallways after pedestrians complained about collisions. In London, the authorities recently reminded residents that the boards are banned from public streets and roadways because they are dangerous."
"The new California law mandates that hoverboard users on bikeways be at least 15 and wear the same gear required when riding a bike. At Stevenson School in Pebble Beach, students recently received an email reminding them of the rules. "If they see you without a helmet, they will take your hoverboard away," said Joseph Cohen, 15, a sophomore."
So far, lawyer Landau is unaware of any reports of people being ticketed or arrested for riding where they are not allowed. The official penalty in New York is up to $500, but the police do not seem to be targeting schoolchildren or other hoverboard riders.
If you or someone you know has been injured due to the unsafe actions of a hoverboard rider and there are questions as to what laws apply, email or call Abrams Landau, Ltd. at once (703 796-9555).