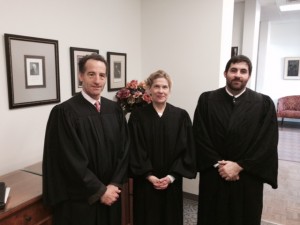 Last spring, athlete's lawyer Doug Landau raced in the Fairfax Bar Association's "Run for Justice" dressed as "Swift Justice."  Donning a judge's robe and clutching a gavel, Lawyer Landau enjoyed this race in which costumes are not only welcome, but encouraged. Finishing first amongst costumed participants and being among the top 10 overall, Landau is used to excellence in and out of the courthouse.
This week Landau once again donned a judge's robe, but this time it was to take part in the 44th annual William Spong Invitational Moot Court Tournament held at the William & Mary Law School in Williamsburg, Virginia.
Landau, one of 10 practicing attorneys and members of the Virginia Trial Lawyers Association (VTLA) asked to participate, served as a judge alongside actual judges from the West Virginia, New Jersey and Minnesota Supreme Courts; U.S. District Courts from Pennsylvania, Maryland, and Iowa. In addition there were judges from the Richmond and Hampton Circuit Courts and Virginia Court of Appeals.  Landau noted, "The quality of advocacy and judging was top rate; I hope that I am asked back next year.  It was a great learning experience for everyone involved."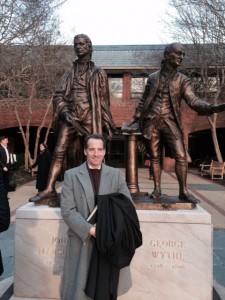 The Spong Tournament is one of the highest ranked moot court competitions in the mid-Atlantic region and attracts top law schools from all over the United States.  Landau was particularly impressed by a team from Texas that argued both sides of the same Constitutional question in consecutive rounds.  As the students were peppered by questions from the bench, they were required to think fast on their feet.  The early rounds had panels of only 3 judges, the quarter and semi finals had 5 judges, and the finals had a panel of 9 judges questioning the competitors !
"These law students were impressive in their knowledge of constitutional law and their ability to debate complex issues.  Their oral arguments were well-researched, well-thought out, and well-delivered.  As a fierce competitor myself, I appreciate how much preparation, skill, and confidence these scholars demonstrated throughout the tournament," noted Landau.