Exciting Family Fun at George Mason University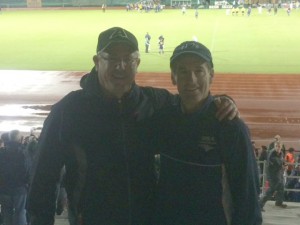 Recently, in-state rivals George Mason University and University of Virginia battled in the rain at the GMU Fairfax campus.  Both schools have excellent soccer programs and are nationally ranked.
Although it had been several years since Herndon sports injury lawyer Doug Landau had been on the campus to see a match, this promised to be an exciting game. Scoreless through the first half, University of Virginia got a goal and pulled in front of the GMU team.  Thereafter, series of yellow cards lead to a red card to a UVA player, and the visitors playing "down a man." Despite their disadvantage, the visiting team from Charlottesville managed to hang on to the win.  The Cavaliers won despite the home crowd, the weather and the GMU home-field advantage.
"At $6 a ticket (less if purchased in advance or for group sales), this local athletic match is a good value for families and teams. Plus, many of the players on both sides are products of our excellent club system and high schools. And, the parking is free of charge!" notes Landau.  Lawyer Landau enjoyed the game with a friend and fellow soccer parent/coach .
Just as when he goes to court, Landau tries to anticipate all contingencies.  For trials, the Herndon law firm prepares early and prefers to be over-prepared.  For the GMU vs. UVa game, Landau brought extra dry clothing, towels and his oversized golf umbrella, to the delight of everybody sitting around him.  For more information about George Mason University sports, click here.