Half Way to St Patrick's Day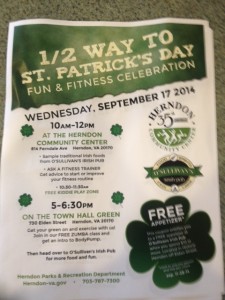 What a clever and fun idea!  Herndon, Virginia is celebrating the half-way point to St. Patrick's Day on September 17, 2014 with a Fun and Fitness Celebration!
In the Morning
10am – 12pm at Herndon Community Center
– Traditional Irish fare
– "Ask a fitness trainer"
– Free kiddie play zone
In the Evening
5-6:30 pm on the Town Hall Green
– Free Zumba class and Intro to Body Pump
– After party at O'Sullivan's Irish Pub
The Fun Happens Right Near the Abrams Landau Law Shop
While Herndon lawyer Doug Landau has tried Zumba (to the delight and laughter of his non-dance-challenged daughters), he does use the Herndon Community Center facilities frequently, especially for hydrotherapy and deep water exercise.  Landau also enjoys O'Sullivans and its Irish food, friendly staff, and entertainment.  It's only a couple of blocks from the ALL law shop!
We hope you'll join in the fun!