Lawyer Doug Landau Speaks at Washington DC TriMania MultiSport Expo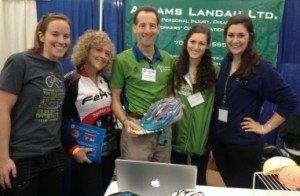 Virginia triathlon lawyer Doug Landau was a featured speaker during the educational program at last weekend's Washington DC Tri-Mania Summit and Expo.  This multisport expo was held at Georgetown Prep School, where more than 2000 athletes, over 60 exhibitors, and Ironman world champion triathlete couple Mirinda Carfrae and Timothy O'Donnell kicked off the DC triathlon season together.
Tri-Mania DC was an opportunity for Virginia, Maryland, and DC athletes to sample new equipment, sports apparel, and nutritional products.  There were also educational programs; hands-on swimming, running, biking and other clinics; presentations; and athletic competitions throughout the day.
While Virginia safety and sports injury lawyer Doug Landau is accustomed to teaching in the area schools and at national trial lawyer programs, this was a first for the "triathlon trial lawyer".
Landau Teaches Athletes How to Protect Themselves
Landau's topic for the afternoon was Lawyers, Guns & Money: Tools for Avoiding Legal Potholes for Athletes.  The multimedia presentation involved music, scenes and photos from actual cases he has tried, physical exhibits, and medical illustrations.  Attendees eagerly listened while Landau shared the tools necessary to avoid legal trouble and ameliorate claims and citations.  One such tool is insurance.  Athletes — triathletes in particular — must carry adequate insurance as a first line of defense in protecting themselves.  As an example, Landau discussed a situation in which a triathlete in his final pre-race training was struck by a motorist who did not have insurance.  Unfortunately, the athlete's insurance policy only provided the bare minimum in coverage.   The athlete, who had expended thousands of dollars in equipment, travel and race-related expenses — and now faced with medical bills in addition — had no other recourse but to settle for the limits of his own auto insurance policy — $20,000.  Session attendees were grateful to learn the true importance of adequate insurance.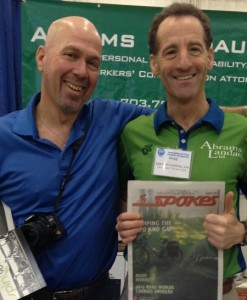 Abrams Landau Ltd. Exhibitor at Expo
For the first time in his career Landau also had a booth at the exhibitor hall. Along with a trio of assistants, he answered questions about the legal rights of cyclists or joggers who get struck by cars while crossing the road, swimmers who are harmed by undertow or submerged dangerous objects, etc.  Landau and his team were pleased to distribute items for young children, including bike safety coloring books and crayons.
Sharing the ABRAMS LANDAU booth was
Colburn Body Concepts
, a local coaching and training company that also runs safe, open water swims. Stephanie and Rob Colburn hold the swims throughout the warmer weather in a safe, controlled environment so that multisport athletes can practice the skills necessary for safe open water swimming, work in their expensive wetsuits, and gain confidence in the water.
It was a great day for the promoting safety on the roads, trails and in the water, and the winner of the grand prize raffle, was in fact Stephanie Colburn, who won the Norma Tech Recovery System, which helps recovery by forcing blood in and out of the legs with air pressure, much as is done in the hospital setting for catastrophic injuries.
Landau hopes to participate in future multisport expositions and speak to other athletes throughout the country on the issues of safety, legal issues, and other medical and legal topics.