Advanced Bike Maintenance Clinic in Leesburg Virginia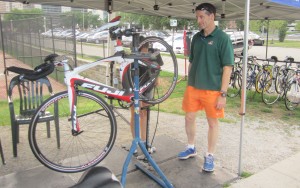 Attention cycling enthusiasts!  We are pleased to help promote a clinic being run by Transition Triathlon in neighboring Leesburg, Virginia.
Here is what the Transition folks have to say:
If you'd like to know more about how your bike works and how to tune it yourself, this class is for you!  You'll learn how to replace your chain and cassette, adjust and replace brake pads, and much more!  This class will be Saturday 1/18 and Saturday 1/25 from 2:00-4:00.  It will be $150 per person and you'll have the opportunity to buy tools at 10% off.  Please email or call the store to reserve your place in the class.
Herndon Virginia cyclist and lawyer Doug Landau applauds this local business for supporting cyclists in our area.  Lawyer Landau stopped by the Transitions Triathlon store on his way back from the Loudoun County Circuit Court in Leesburg just this week. Even though it is January, our recent temperatures have been somewhat warm, so what better time to learn how to care for your bike than now, when warm-weather rides are in sight!  And we all know that a well-maintained bike is the first step towards safe riding. Here is the contact information for the store:
Transition Triathlon
222 S King St.  Suite 1  Leesburg, VA 20175
571-291-3051   info@transitiontri.com
www.transitiontri.com
Happy Cycling!