Fall Racing in Haymarket Virginia; the Long and Short of it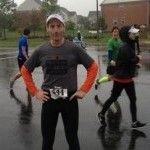 After a week of overcast and rainy weather, DC area runners were hoping for some respite. But Mother Nature was not in a cooperative mood. It rained or drizzled nearly the entire morning of the Heritage Half Marathon, and 5km road races at Battlefield High School experienced popular multisports BRATS Race Director Kent Barker had lined up plenty of Prince William County police to keep runners safe on the challenging, rolling course. This is one of Northern Virginia's early Fall Half-Marathons and 5k, and it has grown each year and is a good tune-up for the Marine Corps Marathon and other late season races. The Heritage races benefit our schools and the Owen Lea Foundation. The Owen Lea Foundation provides support to families Living with Neuroblastoma.
In order to further prepare for the USAT National DUathlon Championships a fortnight from now, Doug Landau, of the Herndon law firm ABRAMS LANDAU, planned to race the 5km, ride his mountain bike to the 10 mile mark of the half marathon, lock it up, change back into running shoes, and race back to the finish line at the high school track. This "brick workout" was intended to help him prepare for the "Run-Bike-Run" format of Nationals. By combining the different sports, he intends to prevent "bonking (the inability to run quickly after cycling hard), and cramping in longer races. The Herndon injury lawyer's forte is short, sprint triathlons, and the Nationals format will require him to "red line" for 100 minutes or more!  Running late due to flooding in his own home, Landau had no time to warm up but still managed to run a sub-21 minute 5km for 6th place overall and another Age Group win. He then ran to his car to get his bicycle ready to ride hard and got to the 10 mile mark of the Half Marathon to begin his second run, which was significantly slower in the continuing rain. Nevertheless, lawyer Landau booked it as a hard "brick workout" and hopes to stay healthy and injury free over these last few weeks before leaving for Oro Valley, Arizona. Stay tuned !