Sore Bums for a Good Cause – Miami "Tour de Cure" for Diabetes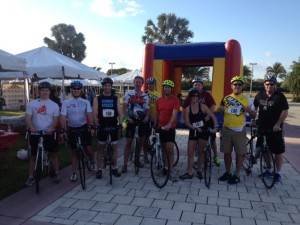 Getting off his bum for a good cause meant that Doug Landau skipped today's lectures at the Association for Justice Convention and instead raised funds and biked in the Miami "Tour de Cure." The Herndon injury lawyer rode a rented bicycle from the friendly bike pros at Mack's Cycles for 5 hours – all the way to the Everglades and back. The group fundraiser was generously planned by the Stratton Faxon law firm in New Haven, Connecticut. Because of the snow storms, some of the New Englanders were stranded and could not make the event. But some of the best trial lawyer cyclists from: Connecticut, Virginia, Arkansas, California, Tennessee and elsewhere did make it, ride it, and fund raise for it.
Given southern Dade County's topography, the ride was almost completely flat, but Landau noted, "there seemed to be a headwind the entire time we were pedaling ! However, the challenges we faced riding are nothing compared to the struggles those combating Diabetes contend with every day. Abrams Landau clients have had their injury and disability cases complicated by diabetic neuropathy, wounds that won't heal, and diet issues." For more information about the American Diabetes Association click here.