Warrenton Sprint Awards for Herndon "World Gators" Church & Landau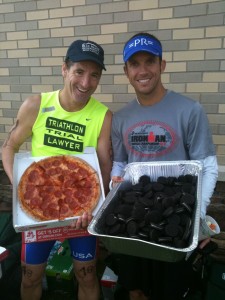 Fighting the rolling hills of Fauquier County on their racing bikes, a pair of multisport athletes from Herndon's Worldgate athletic club were prize winners Sunday. The Warrenton Triathlon is one of the final races in the Virginia Triathlon Series ("VTS"), and it presents a chance for Northern Virginia triathletes to move up in the rankings. Herndon Sport & Health Club masters swimmers Aaron Church and Doug Landau competed in one of the latest additions to the Virginia Triathlon Series Sunday. These two "World Gators" enjoyed the facilities at the state of the art Warrenton Aquatic and Recreation Facility ("WARF").
The race began with a 300 yard "snake" swim inside the aquatic center. The 11 mile bike course was rolling, on Lee Highway in Fauquier County, with a few tough hills in it. The race ends up with a hilly 2 loop 5K run around soccer fields adjacent to the aquatic center, located at 800 Waterloo Road in Warrenton. The finish is an uphill 100 yard dash ! Spectators can follow all of the swim from the WARF balcony and much of the run, which is on the side of a hill. Competitors were able to shower and change afterwards. All competitors, from ages 10-70 received Zorrel technical shirts, great post race food, and as always a great atmosphere to bring the family. Plenty of volunteers and police protection made for a safe bike ride and run course.