Taxicab Bike Crash Survivor, Triathlete Rob Urbach to be USA Triathlon's Chief Executive Officer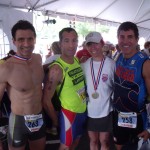 Our friend, teammate and bike crash client Rob Urbach has been named CEO of USAT. The USAT is the National Governing Body for triathlon and multipart athletes (including duathlons, aquathons and aquabike races). Rob Urbach has not only a background in the business of sports, serving as Executive Vice President of Octagon, a global sports management and marketing firm, but he is also a successful athlete in his own right, winning numerous multisport awards and his age group in the competitive Virginia Triathlon Series. I met Rob when we both represented the United States in Israel as part of the American Triathlon Team at the quadrennial Maccabiah Games. Rob was not only a keen competitor, but also helped me with last-minute bike issues as a skilled mechanic.
I also got to know Rob as a fighter. He was struck and badly injured by a taxi near his home in Arlington, Virginia. Rather than "packing it in," Rob got well enough to not only ride and race again, he beat his own lawyer badly thereafter ! We will miss him when he moves to Colorado Springs, however, we hope to see him and his wonderful family at USAT National and International championship events. Everyone at the Landau Law Shop wishes Rob and his family success as USAT CEO. Read the official press release by clicking here.