Even Pacing Nets Another Age Group Win in Alexandria for Triathlon Trial Lawyer Landau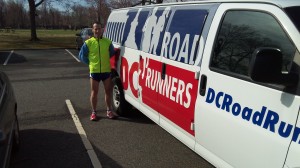 The DC Road Runners Annual Fort Hunt 10km is an interesting early season race because it consists of 5 laps around a small park with no significant hills. Runners can thus pace themselves for most efficient times. Landau intended to run an evenly paced race, by adding 5 seconds per 440 yards. However, he added that amount of time to each 220, such that he could not break 40 minutes for the 6.2 mile course, as had been his goal.
Nevertheless, the Triathlon Trial Lawyer finished in the top 10, was the 5th place master, and 1st place 50 & over finisher. The Herndon attorney hit 6 the mile mark in 40:01, after running the first 3 miles in 19:30 and the 2nd three in 20:30. His HR was spot on 169 nearly the whole way (top of Aerobic Zone 4); while his maximum heart rate was 174 BPM & average was 169 BPM. By running right on an average of 6:40/mile instead of 6:20, he finished in 41:24 on a beautiful Alexandria morning. The safe, traffic-free course is located near the Potomac River and Mount Vernon. Official results can be found at the DCRRC Race Results Link.