All Comers Come to Landover Track Meet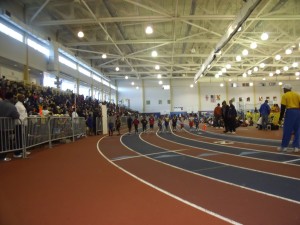 Today's "all comers" indoor track meet at the Prince Georges Sports & Learning Complex (PGS&LC) was an opportunity to watch runners, throwers and jumpers of all ages test themselves in a wonderful, WARM facility next to FedEx Field, in Landover, Maryland. While lacking banked turns, the 6-lane wide, 200 meter, 8-lap to the mile track surface allows spikes to be worn and is not hard on the feet.
This venue successfully hosted the 2009 Indoor Masters National Championships, at which Herndon injury lawyer Doug Landau competed. The meet today was so well attended, that the grandstands on both sides of the track were full and competitions went from 8:30 AM to 6:30 PM ! There are several other Sunday "all comers" meets scheduled, and a special Saturday opportunity to raise money to fight breast cancer in February. The Breast Cancer Awareness Meet is February 5th, 2011.