Town of Herndon Turkey Trot Running Race at Centennial Golf Course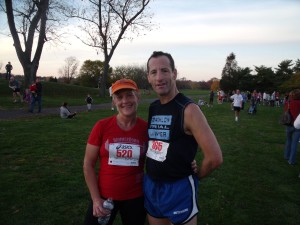 The annual Herndon Turkey Trot 5K had over 800 runners, joggers and walkers who got to experience the grass, pavement, golf cart path and dirt course. The cross-country style race took place on the Herndon Centennial Golf Course, where earlier in the day the town's annual Gobbler Scrambler Golf Tournament was held. The overall male and female winners receive a turkey and all the trimmings. The event collected canned food items for LINK. This year LINK is hoping to feed 775 families for both the Thanksgiving and December holidays.
Used running shoes, smelly sneakers and used gym shoes were also collected for the Nike Reuse a Shoe Program. The shoes will be ground up into small pieces and later used to make basketball courts, track fields, playgrounds, floor tiles and other items. ? Doug Landau of the Herndon law firm finished 38th out of 752 finishers. The Triathlon Trial Lawyer then went down the W&OD Trail to the Landau Law Shop, located near the Caboose and 20 Mile Marker. It was a lovely day for a race, warmer than usual, and many friends and neighbors turned out to support several wonderful causes and to cheer each other on to the finish line.